The Chicken Breed Selector: Standardised Breeds
Chicken Breeds pages can be seen by clicking on the links below. From the large fowl like Australorps or Orpingtons to the smaller bantams like the Dutch, Belgian or Japanese, there's usually a breed of chicken that will tickle your fancy!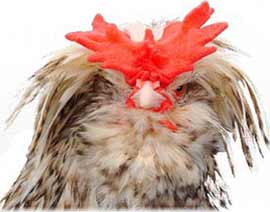 This page lists all 93 chicken breeds that are standardised in the British Poultry Standards. References are given to pages in other standards around the world where applicable.
Whilst Hybrids are technically not pure breeds, we have also included a section for Hybrid chickens such as the Black Rock due to their popularity.
Chicken Breeds Classifications
There are two sizes of fowl that exist – 'Large Fowl' (often abbreviated to L.F) and 'Bantam'. Not all breeds of large fowl can be found in bantam size and vice-versa. Where there is a bantam size only, these are called 'True Bantams'. For many large breeds, bantams are created afterwards as a miniature version by selecting the smallest birds repeatedly for many generations, sometimes crossing out to other small bantams in the process to reduce their size.
As well as Large Fowl and Bantam sizes, there is another distinction made with 'Hard' and 'Soft' Feather breeds. Generally, hard feather breeds are 'Game' varieties, who historically were cock fighting birds. These have a tighter feathering than the soft feather chicken breeds, who are more fluffy.
The Poultry Club of Great Britain classifies 'Rare' breeds as those without their own breed club or society. The Rare Poultry Society looks after these breeds.
Thanks
This page has been a rather big project. A special thank you to Rupert Stephenson who has spent many years visiting shows to capture many of these chicken breeds photographs and has helped me enormously to create these pages.