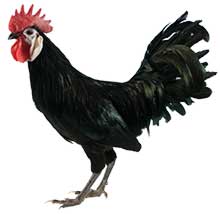 Uses: Utility – Layer of large white eggs.
Origin:
Eggs: 120 – 160 White.
Weight: Cock: 3.2Kg. Hen: 2.7Kg.
Bantam Cock: 1075g. Hen: 910g.
Colours: Black with a beetle-green sheen. Some blue bantams exist in North America and White in Australia.
Useful to Know: A striking appearance and good layer of large white eggs although slow to mature. A rare breed that is now very hard to find. Hens don't tend to go broody.
Photo: Black Spanish Bantam Male.
Spanish chickens (standardised as White Faced Black Spanish in North America) are one of the oldest Mediterranean breeds of poultry and the first foreign breed to arrive in America.
Despite their name, their origins are unclear and although many modern texts say they came from Spain, authors who have spent years researching the origins of the Spanish say they do not. David Scrivener for example in his book Rare Poultry Breeds suggests it is most unlikely that they came from Spain and that it was likely to be some of the "raw materials" that would have certainly been "red-faced, white ear lobed, black plumaged fowls similar to Castilians".
Early texts on poultry in the 1840's provide some further suggestions to their origin but none seem to agree and many are based on religious beliefs rather than historical fact.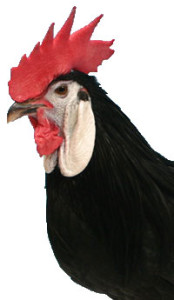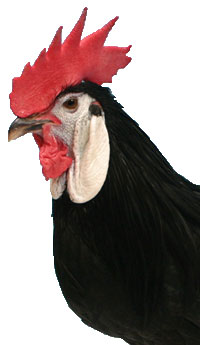 Spanish were one of the most popular breeds of poultry during the early years of the first British poultry shows. Birds need a certain amount of protection from the elements though so the capital city of London was a popular place to find good Spanish in days gone by. Lewis Wright, a well respected author who wrote "Wright's Book of Poultry" also mentions Bristol in the South West of England as being an area of influence for their later development due to one breeder in particular.
Spanish chickens have completely white faces when they mature but it can take 5-6 months before these start to appear.
The Spanish was admitted to the British Poultry Standards in ???? (can anyone help with the date?) and to the American Standard of Perfection in 1874. The scale of points in the British and Australian Standard, allocate half of the points to the face, lobes, comb and wattles, which puts great emphasis on the head!
Spanish in the UK rarely achieve the required weight.
The following books are available. Links take you to the Amazon or other sellers' pages for the books.
These are the breed clubs for Spanish chickens: