From heavy duck breeds like the Aylesbury or Rouen to the 'bowling pin' Indian Runner or the tiny but noisy little Call duck, there's usually a breed of duck that will tickle your fancy!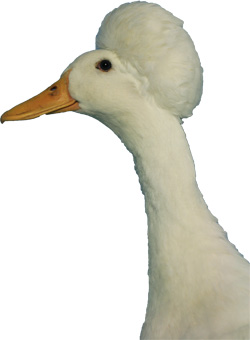 Domestic Duck breeds are grouped into Heavy, Medium and Light weight classes in the standards. Commercially, ducks have been bred for their meat, foie gras and eggs and this is why we have many of the domestic breeds of duck we have today.
Remember not all white ducks are Aylesbury's though, just as not every white goose is an Embden! Commercially, there are many crosses that have been created along the way and there are many white ducks that seem to pick up the Aylesbury name.
For the specialist breeders and keepers of pure breeds of ducks, they are charming pets, and produce reasonable numbers of eggs.
Picture Above: A Crested duck, one of the more unusual breeds of duck.
Please note: These are Domestic Ducks, standardised in the UK. There are many species of wild duck that you may see on lakes and ponds that are not covered by this website.
Duck Breeds Selector
Click on the link under the picture to go to the breed page.
We have taken many pictures of ducks at poultry and waterfowl shows but if you have a photograph of a good example of a domestic breed in a natural setting, we would certainly be interested in hearing from you.
I get many requests from people to identify a breed of duck they have seen on their local pond. Sadly, these ducks have usually been dumped there and are often crosses with other wild or domestic ducks visiting the pond.
Please note, you should never release domestic ducks into the wild as Zoe explains in this article.
Breeds of Domestic Ducks are classified in the UK by the British Waterfowl Standards published by the British Waterfowl Association. They align with the Poultry Club of Great Britain Standards that are produced.
There are other breeds of domestic duck standardised in other countries. The following organisations maintain these standards for domestic ducks:
Images are Copyright 
Please do not use these images without permission.
Duck Breeds Pictures Thanks… We have to give an extra special thank you to Rupert Stephenson, poultry photographer who has supplied us with so many first class duck breeds pictures for this area of the site. I would also like to thank the British Waterfowl Association and Poultry Club of Great Britain members for their support in allowing us to photograph their ducks at various shows over the years.