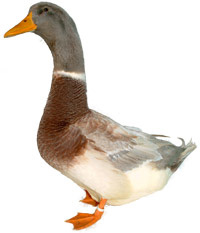 Uses: Exhibition and Utility: meat.
Eggs: 100 to 160 Eggs.
Origin: Germany.
Weight: Drake: 3.6 Kg, Duck: 3.2 Kg.
Classification: Heavy.
Useful to Know: The Saxony can make a very meaty bird for the table. The pigeon blue head and wing tips of the drake and the eye stripes in the female make these very attractive looking ducks.
Photo: A Saxony Drake. Photo Courtesy of Rupert Stephenson.
The Saxony duck was developed in Germany as a hybrid during the 1930's by using German Pekin, Rouen and Blue Pomeranian ducks by Mr. Albert Franz. He tried to create a table duck that would mature in 10 weeks and have light feathers underneath, (essential to avoid dark pin feathers showing on a dressed carcass) but also a duck suitable for showing. The breed appeared at the Saxony county show in 1934 where it was popular but it was not a recognised breed so didn't attract further interest.
The breed was almost lost during World War II. Mr. Franz was taken prisoner and it wasn't until 1952 that he started to find some of the original breeds locally that were used to create the Saxony and re-build the breed using the same principles as before. By 1955, the Lipzen show recorded 19 birds from 4 breeders and it was from this point that the breed took off and was standardised in 1957. Saxony ducks were thought to be imported into Britain during the 1970's.
Saxony ducks are by far the most attractive of the heavy ducks, the male having a striking pigeon blue coloured hood and wing tips, the female being apricot buff colour with white eye stripes. There have been a number of Saxony ducks winning at the waterfowl shows over the years.
The Saxony made it into the East German Standards in 1957, West German Standard in 1958, the British Waterfowl Standards in 1982 and the American Standard of Perfection in 2000. Saxony Ducks are called Le Canard de Saxe in France and Sachsen Enten in Germany.
Photos
Books
The following books are available. Links take you to the Amazon or other sellers' pages for the books.
Discussion
Looking for stock? Visit the Waterfowl Section of our Forum
Please leave a comment below if you can provide further information or have a question about this breed.