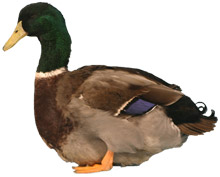 Uses: Utility: meat although now more for exhibition.
Eggs: 60 to 150 Eggs.
Origin: France.
Weight: Drake: 4.5 – 5.4 Kg, Duck: 4.1 – 5 Kg.
Classification: Heavy.
Colours: Wild Colour, Blue, Apricot
Useful to Know: An extremely heavy duck with good table qualities but slow growing.
Photo: A Rouen Drake.
The Rouen duck originates from the Rouen area of France and is a very old breed of duck, bred on farms in the area for its table qualities. It closely resembles the wild Mallard in its plumage colours except it is a darker colour. When it was imported into England, it was selectively bred to achieve the darker colour and larger size than the farm yard ducks produced in France to suit the exhibition requirements the English were interested in.
Rouen ducks can take almost a year to achieve its full size which means they have lost favour commercially so are now normally only found used for ornamental and exhibition purposes.
The Rouen duck was one of the first of 3 ducks to be standardised in the British Poultry Standard in 1865 (together with the Aylesbury and East Indian), it entered the American Standard of Perfection a year earlier in 1874.
Photos
Books
The following books are available. Links take you to the Amazon or other sellers' pages for the books.
Discussion
Looking for stock? Visit the Waterfowl Section of our Forum
Please leave a comment below if you can provide further information or have a question about this breed.