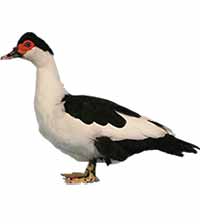 Uses: As a broody and utility: meat.
Eggs: 60 to 150 Eggs.
Origin: America.
Weight: Drake: 4.5 – 6 Kg, Duck: 2.5 to 3 Kg.
Classification: Heavy.
Colours: Black Magpie, Blue, Blue Magpie, Chocolate, Chocolate Magpie, Lavender, Wild (Mainly Black), White
Useful to Know: Drakes are almost twice the size of ducks. Both have sharp claws so care should be taken when handling.
Photo: A Black Magpie Muscovy Duck.
The Muscovy duck is a rather unique duck. It is the only domestic duck not to have descended from the Wild Mallard. It belongs to a sub group of perching ducks called "greater wood ducks". Essentially a bird from the Tropics, the Muscovy Duck is native to some parts of North and South America but can also be found feral from time to time in Europe. Their feet have sharp claws that allow them to perch well (and can deliver a nasty scratch when you're handling them so be careful). They are a unique looking duck with a bright red crest (called caruncles) around their eyes.
Muscovy Ducks make a good broody and will often sit 2 or 3 times per year.
Muscovies were standardised in the British Waterfowl Standards in 1954 and there are 9 different colour varieties standardised. They are known as Le Canard de Barbarie in France and are used extensively for Foie Gras production. In Germany they are called Warzenenten. They first entered the American Standard of Perfection in 1874 and are standardised in White, Black, Blue and Chocolate.
Photos
Books
The following books are available. Links take you to the Amazon or other sellers' pages for the books.
Discussion
Looking for stock? Visit the Waterfowl Section of our Forum
Please leave a comment below if you can provide further information or have a question about this breed.