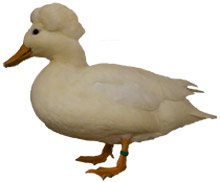 Uses: Exhibition.
Eggs: 60 to 150 Eggs.
Origin: U.K.
Weight: Drake: 1.1Kg, Duck: 900g.
Classification: Bantam.
Colours: White, Coloured (markings must be symmetrical).
Useful to Know: Crest is a mutation causing a lethal allele combination where 25% of embryos die when pure bred.
Photo: A white Crested Miniature Duck.
The Crested Miniature duck is a miniature version of the Crested duck. It has a very short history being a very modern breed, unlike the Crested which dates back to at least the 1600's. The Crested Miniature was created in the late 1980's in Britain using Crested ducks, Miniature Appleyards and Calls. Like other ducks with crests, this mutation causes a lethal allele combination when two crested ducks are mated together, causing on average 25% of the embryos to die in the shell. There are quite frequently other health problems in the young that hatch as well. From the offspring there will be some crest-less ducks too. If a Crested duck is mated to a crest-less duck, some of the offspring will have crests, so this is to be encouraged to avoid the lethal allele combination that causes dead embryos.
The Crested Miniature was standardised in the UK in 1997 by the Poultry Club of Great Britain.
Photos
Books
The following books are available. Links take you to the Amazon or other sellers' pages for the books.
Discussion
Looking for stock? Visit the Waterfowl Section of our Forum
Please leave a comment below if you can provide further information or have a question about this breed.