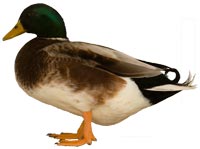 Uses: Exhibition / Ornamental. Eggs: 60 to 160 Eggs.
Origin: Suffolk, U.K.
Weight: Drake: 900g, Duck: 800g.
Classification: Bantam.
Useful to Know: Visually, these ducks look very much like a bantam version of the Abacot Ranger.
Photo: A Silver Bantam Drake.
The Silver Bantam duck was originally created by Reginald Appleyard and originally called the Silver Appleyard Bantam. It was created in the 1940's by crossing a White Call drake to a small utility Khaki Campbell duck. The name change occurred as it did not have the same colours as the Silver Appleyard and looked more like a bantam version of the Abacot Ranger having descended from similar birds (a white drake and Khaki Campell duck). Tom Bartlett of Folly Farm in Gloucestershire took a Silver Appleyard and miniaturised it to create a correctly coloured Silver Appleyard Miniature duck in the late 1980's and the old Silver Appleyard Bantam became the Silver Bantam.
Silver Bantam ducks were standardised in Britain in 1982 as the Silver Appleyard Bantam and then as the Silver Bantam in 1997 when the Silver Appleyard Miniature was standardised.
Photos
Books
The following books are available. Links take you to the Amazon or other sellers' pages for the books.
Discussion
Looking for stock? Visit the Waterfowl Section of our Forum
Please leave a comment below if you can provide further information or have a question about this breed.