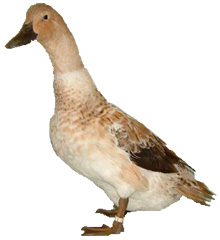 Uses: Utility: eggs.
Eggs: 150 to 250 eggs.
Origin: Wales, U.K.
Weight: Drake: 2.3 – 2.5 Kg, Duck: 2 – 2.3 Kg.
Classification: Light.
Useful to Know: Originating from the Khaki Campbell, itself originating from the Indian Runner, the Welsh Harlequin is an excellent egg layer and an active forager.
Photo: A Welsh Harlequin duck. Photo courtesy of Rupert Stephenson.
The Welsh Harlequin duck was created by Group Captain Leslie Bonnet who was very much a utility duck breeder. Starting at his house in Hertfordshire in 1949, two light coloured sports of pure Khaki Campbell ducks he was keeping were bred together and he named them Honey Campbells. These were later called Welsh Harlequins when Leslie Bonnet moved to a farm in North Wales around 1950 with his family.
Bonnet claims in his 1960's book "Practical Duck Keeping" that a flock would lay on average over 300 eggs per duck, per year.
Tragically, in 1968, a fox destroyed most of Bonnet's flock but an enthusiast called Eddie Grayson had some of the original Welsh Harlequins and crossed these with the original strain of Khaki Campbells, reviving the breed and stabilising the colour form.
The Welsh Harlequin was first admitted to the British Standards in 1997 and the American Poultry Association Standard of Perfection in 2001.
Photos
Books
The following books are available. Links take you to the Amazon or other sellers' pages for the books.
Breed Clubs
Discussion
Looking for stock? Visit the Waterfowl Section of our Forum
Please leave a comment below if you can provide further information or have a question about this breed.