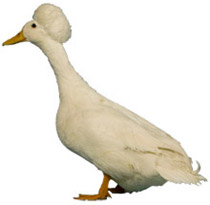 Uses: Exhibition. Utility: meat and eggs.
Eggs: 120 to 200 Eggs.
Origin: Unknown but possibly Asia.
Weight: Drake: 3.2 Kg, Duck: 2.7 Kg.
Classification: Light.
Colours: White, Coloured (markings must be symmetrical).
Useful to Know: The Crest or 'top-knot' is a mutation that causes a lethal allele combination causing 25% of embryos to die when Crested are pure bred.
Photo: A white Crested Drake.
The Crested duck's origins are uncertain. The most credible possibility is that crested runner ducks (Bali ducks) were brought to Holland on ships and crossed with local ducks (The Domestic Duck – C&M Ashton P. 50). The crest found on these ducks does occur in Mallards and their derivatives from time to time though as a mutation so it is possible that they were bred from sports of common ducks. It is through selection, crested ducks have been created.
The mutation causes a lethal allele combination when two crested ducks are mated together, causing on average 25% of the embryos to die in the shell and there are quite frequently other health problems in the young that hatch such as twisted necks. From the offspring there will be some crest-less ducks too. If a Crested duck is mated to a crest-less duck, some of the offspring will have crests and there is no lethal allele combination.
The Crested duck was admitted to the American Standard of perfection in 1874 and to the British Standard in 1910.
Photos
Books
The following books are available. Links take you to the Amazon or other sellers' pages for the books.
Discussion
Please leave a comment below if you can provide further information or have a question about this breed.