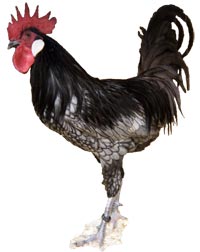 Uses: Exhibition, rare breed conservation.
Origin: Mediterranean. Eggs: 160-200 large white eggs per year.
Weight: Cock: 3.2-3.6Kg, Hen: 2.25-2.7Kg.
Bantam Cock: 680-790g Bantam Hen: 570-680g
Colour: Blue with black lacing.
Useful to Know: A rare breed but good layer of large white eggs. As with all blue birds, there is wastage in getting blue plumage since black and splash birds will also be produced. In addition to this, it is hard to get the right ground colour.
Photo: A male Andalusian owned by R. A. Bowden taken at the National Poultry Show 2011.
The Andalusian Chicken came to the UK around 1846 when some birds were imported from Andalusia, Spain. Whilst they laid a good number of large white eggs, many of the original birds were not blue-grey and it was some time before Andalusians looked as they do today.
It is thought that they were crossed with Spanish (giving them the white ear lobes and the large combs).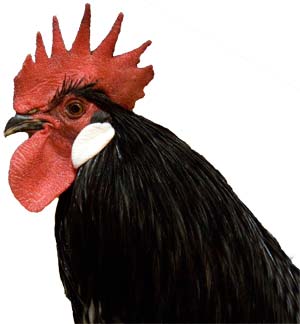 Andalusian chickens first appeared in Germany in 1872 when they were imported from England and they reached American Standard of perfection in 1874.
British Poultry Standard weights for Andalusians are rarely achieved.
There have been a number of Andalusian breed clubs formed over the years but from 1939 until 1969 there was no breed club for fanciers until "The Rare Breeds Society" was formed. Currently there is only a handful of breeders in the UK and the Andalusian is considered a rare breed. There are never normally more than about a dozen birds exhibited at the major shows.
Breeding Hints
There is a high wastage rate creating the blue plumage (Blacks and Splash are also produced). The ideal plumage is hard to achieve, many birds do not have the right ground colour, or lacing. Black females with desirable features can be mated with lighter blue males and splash hens with darker blue males if breeding numbers are limited.
Photos
Sorry, there is no photo gallery yet. If you have any photos, please get in touch!
Books
The following books are available. Links take you to the Amazon or other sellers' pages for the books.
Breed Clubs:
Discussion
Please leave a comment below if you can provide further information or have a question about Andalusian chickens.