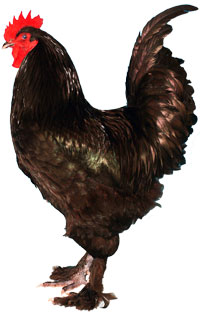 Uses: Dual purpose utility.
Eggs: 180-240 pinkish-brown.
Origin: Langshan district of China.
Weight: Cock: 4.1Kg min, Hen: 3.2Kg min.
Bantam Cock: 770 – 910g Bantam Hen: 650 – 790g
Colour: Black, White.
Useful to Know: There are many different standards for Langshans around the World which can cause some confusion depending on where you are in the World. The Croad Langshan 'type' when viewing the side profile should be 'U' shaped between the neck and tail and feathered feet. They should be compact and profusely feathered.
Photo: A black Croad Langshan owned by Clare Curtis. Photo courtesy of Rupert Stephenson.
Croad Langshan chickens (called Langshan chickens in America) is an old breed that originates from the Langshan district of China. There are several types of Langshan around the World.
In the U.K Major F.T. Croad from Worthing in Sussex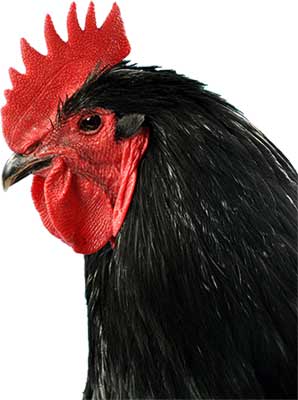 is widely credited as being the first person to import birds and then exhibit them at the 1872 Crystal Palace poultry show.
There were a lot of arguments in the poultry press of the time as to whether there were sufficient differences between the black Cochin and the Langshan and there were further debates regarding 'Croad' and 'Modern' Langshan types.
Initially there were minor differences but gradually the Croad Langshan became more distict since it was compact and profusely feathered and the Modern Langshan taller and tighter feathered.
The British Croad Langshan club was formed in 1904 but was closed down in 1968 through to 1979 as there wasn't sufficient interest in the breed. The current club continues to promote the breed and there are relatively small numbers of breeders selling Croad Langshan chickens in the UK.
The German Langshan or 'Deutsches Langshan was created from importing Croad Langshans from Britain. The Germans created their own version of Langshan from these by crossing them with the Plymouth Rock and Minorca which resulted in the clean legged German Langshan. These were later imported into the UK and standardised by the Poultry Club of Great Britain resulting in…. yes, another version of Langshan.
In America, things were a lot simpler. Breeders imported birds and created their standard. They are simply called 'Langshans' and there appears to have been far less controversy during the time they were becoming established compared to the goings on in Britain.
There are some differences to the British Poultry Standard, not just the name, so this makes another kind of Langshan.
In Australia, another variation of Langshan was created using imported British Croad and Modern Langshans, Chinese Langshans and Orpingtons. The Australian Langshan was admitted to the first Australian Poultry Standard released in 1998 and have remained a fairly popular breed.
Bantam Croad Langshans were created during the 1950's from large fowl but other bantam breeds (black Pekins are one of the likely crosses) were necessary to get their size. Many do not lay the correct colour egg.
If you can supply any photos of Langshans from U.S. or Australia then please drop me a line! admin@poultrykeeper.com. Thanks.
The following books are available. Links take you to the Amazon or other sellers' pages for the books.
These are the breed clubs for Croad Langshans: