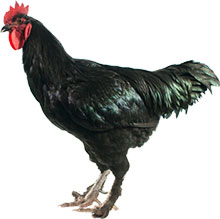 Uses: Rare breed. Eggs: 160-180 brown.
Origin: .
Weight: Cock: 4.55Kg. Hen: 3.6Kg.
Bantam: Cock: 1133g. Hen: 910g
Colours: Black, Blue, White.
Useful to Know: .
Photo: Modern Langshan male owned by Andrew Sheppy.

Modern Langshan Chickens text.
Research in progress!
Photos
Books
The following books are available. Links take you to the Amazon or other sellers' pages for the books.
Breed Clubs: