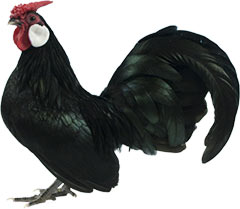 Uses: Exhibition.
Eggs: 150 – 180 white or cream.
Origin: Great Britain.
Weight: Cock: 570g – 620g, Hen: 450 – 510g.
Colours: Black, Black-Breasted Red, Birchen, Blue, Columbian, White.
Useful to Know: A true bantam.
Photo: Rosecomb Bantam owned by SA & G Hodge
The following books are available. Links take you to the Amazon or other sellers' pages for the books.
These are the breed clubs for Rosecomb Bantam chickens: