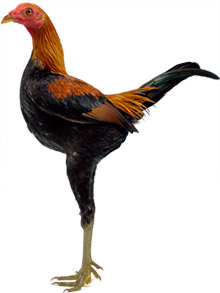 Uses: Exhibition / Ornamental
Origin: Great Britain. 
Eggs: 50-80 Tinted.
Weight: Cock: 3.2 – 4.1Kg. Hen: 2.25 – 3.2 Kg.
Bantam: Cock: 570 – 620g. Hen: 450 – 510g
Colours: Birchen, Black, Black-Red, Blue, Blue-Red, Brown-Red, Lemon Blue, Pile, Silver Blue, Silver Duckwing, Gold Duckwing, Wheaten, White.
Useful to Know: Modern Game Bantams will tame easily, making excellent pets and are an unusual addition to the garden with their tall, slender looks that will not scratch as much as other breeds.
Photo: Black-Red Modern Game owned by Graham Cannell. Photo courtesy of Rupert Stephenson.
Modern Game Chickens originate in Great Britain. They came about thanks to the ban on cockfighting in 1849 because Game Fowl breeders started showing their birds in competitions instead. As the years went by, the show scene made certain characteristics more desirable: taller birds and hard feathering were required if an exhibitor were to win one of the top prizes. By about 1870, they were being called 'Exhibition Game', and they were at an intermediate stage, about halfway between their original height and the height we see today.
By the 1880s, the Old English Game name was being used by some. They had really grown in popularity, and there were several divisions around the country, with some breeders thinking they shouldn't be as tall, so they broke away to do their own thing and form their own groups.
This was the starting point for further breeds: The Oxford Old English Game and the Carlisle Old English Game, which became prevalent breeds in their own right.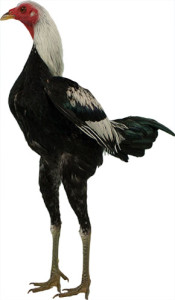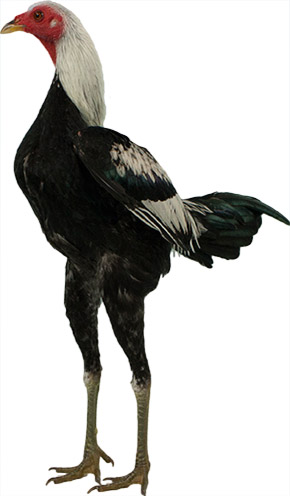 By 1910, they were called Modern Game and were tall and sleek with hard feathering, much like today's bird. A Modern Game Club had been formed, and some birds were exchanging hands for large sums of money.
During the First World War, (large) Modern Game declined in popularity. Since they were purely an exhibition breed that was fetching high prices, newcomers could not afford them, and they were not productive, laying few eggs. They would have cost breeders a lot to keep at a time of food shortages and hardship.
By the time of the Second World War, Modern Game chickens were in very few hands and believed to have been extinct even though many had been exported to Europe and America. Thanks to a German breeder Paul Hohmann who received some hatching eggs from America in the 1960s and started breeding in numbers and recreating many of the colour varieties we have in Europe today.
Modern Game Bantams began to appear in the 1860s and by the early 1900s like their large counterparts had evolved into the type of birds we see today. Their numbers did not suffer like their large counterparts during the First World War as they were far cheaper to keep, consuming less feed.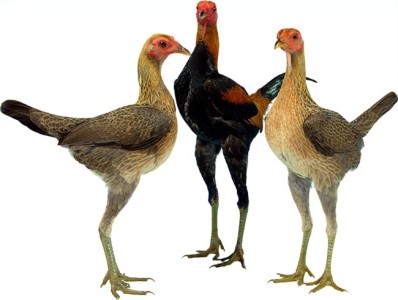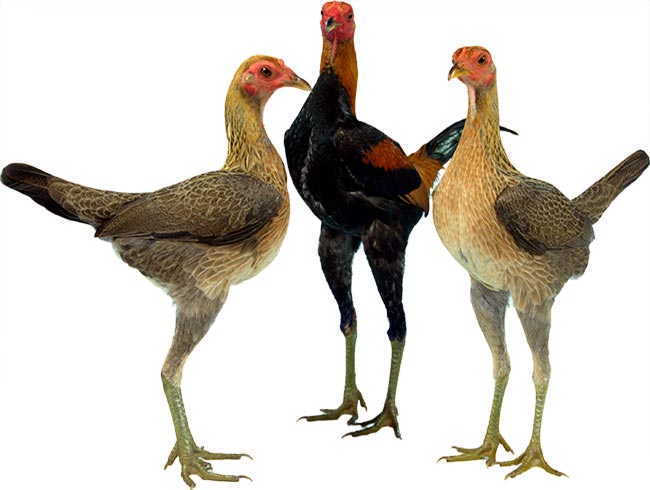 A trio of Duckwing Modern Game Bantams owned by Mark McCullough. Photo Rupert Stephenson.
In addition to the Modern Game club, many smaller clubs appeared in Britain, catering for some of the colour varieties such as Brown-Red and the Pile. At the Second World War outbreak, these clubs, like many others, suspended their activities and never reopened their doors but were replaced by The Modern Game Bantam Club in 1948, which later became The Modern Game Club covering both large and bantam sizes. Today Modern Game bantams remain a favourite and are far more popular than the large size.
General tips for Modern Game
Modern Game are slow to mature and not terribly hardy, so adequate shelter is needed during colder weather. Most breeders keep them in large sheds / indoor runs over the winter months. They are well suited to neat gardens because they won't scratch flower beds like others, especially the bantams.
The following books are available. Links take you to the Amazon or other sellers' pages for the books.
These are the breed clubs for Modern Game chickens:
Other Hard Feather breeds
No. of Eggs  1.1/5 Easy to Keep?  3.5/5 Uses: Exhibition / OrnamentalOrigin: Great Britain. Eggs: 50-80 Tinted.Weight: Cock: 3.2 – 4.1Kg. Hen: 2.25 – 3.2 Kg.Bantam: Cock: 570 –