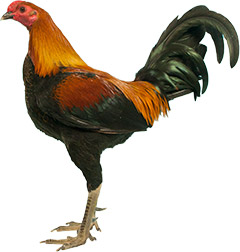 Uses: Exhibition / Ornamental
Origin: Great Britain. Eggs: 50-80 Tinted.
Weight: Cock: Up to 2.94 Kg. Hen: Up to 2.5 Kg.
Colours: spangled, black-red (partridge bred), black-red (wheaten bred), brown-red, blue-red, blue-tailed wheaten, birchen grey, black-breasted grey, golden duckwing, silver duckwing, blue duckwing, crele, cuckoo, pile, brassy-backed, furness, blue furness, brassy-backed blue, salmon-breasted blue, crow wing, blue grey, lemon-blue, black splashed, blue splashed, self white, self black, self blue.
Useful to Know:
Carlisle Old English Game Chickens originated in Britain. When cock-fighting was banned by an Act of Parliament in 1849, many breeders turned to exhibiting game fowls, rather than using them for fighting. Old English Game Fowls became popular birds to show but there were two distinct groups of people with differing views on how the Old English fowls should look. This led to a split in opinions and by 1930, there was a split in the Old English Game Club. The Carlisle Old English Game Club was formed. These breeders were showing larger breasted, flat backed fowls and the other group became the Oxford Club who were showing the original form of fowls with backs at 45 degrees to the horizontal.
Breed research in progress! Let me know if you can help with a paragraph or two!
Photos