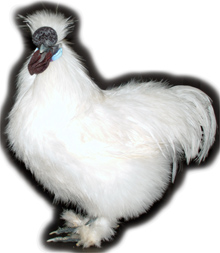 Uses: A very persistent broody, ornamental, exhibition.
Origin: Asia. Eggs: 100-120 Tinted or Cream.
Weight: Cock: 1.8 Kg.Hen: 1.36 Kg.
Colours: Black, Blue, Gold, Partridge, White, in Standard or Bearded (Standardised).
Useful to Know: Silkies are very persistent boodies, so good, sometimes they will not eat and require regular removal from the nest to make sure they get fed. They require sheltered runs since they will not cope so well with very hot, cold or wet / muddy conditions.
Photo: Reserve Champion Silkie Male – Owned by L. Hidden. Photo courtesy of Rupert Stephenson.
The Silkie is a very old breed of hen and despite their light weight, are still classed as 'large fowl' in the UK. They are found in history books going back around 2000 years ago in China, reaching the UK around the mid 1880's.
Silkie chickens have unusual fluffy feathering, a head crest, very dark skin caused by melanotic gene and 5 toes that are covered with feathers. They are a unique breed. It is thought (although as yet unproven) that the Silkie might have been crossed with other breeds when it reached Europe to create breeds such as the Poland and Sultan. Silkie chickens are very popular with hobby keepers as is the name 'cloud' for a white Silkie!
Silkies adapt well to being confined and are fairly docile, making good pet chickens as well as fantastic broodies, pure or crossed with other breeds.
Breeding Hints
Fluff on the underside of Silkies can tangle around young chicks. Cross a Silkie with other harder feathered breeds to get a reliable broody.
Photos
Books
The following books are available. Links take you to the Amazon or other sellers' pages for the books.
Breed Clubs:
Articles
Breed in Focus: The Silkie by Lawrence Beeken
Diseases Common to Silkies by Lawrence Beeken
Exhibiting Silkies by Lawrence Beeken
July 7th – Sorry these articles are still being moved from our old site. Please come back soon…
Discussion
Please leave a comment below if you can provide further information or have a question about Silkie chickens.