Uses: Exhibition. Utility: eggs. 
Eggs: 230 – 280 white.
Origin: Switzerland (Appenzel Canton).
Weight: Cock: 1.6 – 2Kg, Hen: 1.35 – 1.6Kg.
Bantam: Only Large Fowl Standardised in the UK.
Colours: Black, Silver Spangled, Gold Spangled standardised UK. Barred, Black-Mottled, Blue, & Chamois Spangled.
Useful to Know: A very active breed capable of laying a good number of large white eggs.  Light breeds have a reputation for being flighty, but this is overcome in time with gentle handling.
Photo: Silver Spangled Appenzeller Spitzhauben owned and photographed by Benjamin Shepherd.
Originating in the North-eastern Appenzell canton of Switzerland, the Appenzeller Spitzhauben is thought to have developed in the local monasteries – the dates and the breeds involved in its development are somewhat of a mystery.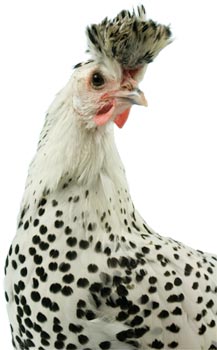 One thing is certain though is that during the 1950's when the breed was facing extinction – it was German breeder Kurt Fischer who helped ensure the breed survived. The breed arrived to England in the early 1970's and it was Mrs Pamela Jackson who first imported them in any great number, when she sourced hatching eggs in 1972. Its crest gives the breed its name and should always be medium sized and must point forward – Spitzhauben literally translates to pointed bonnet.
Originally only available in Silver Spangled, Gold Spangled and Black – the Skill of the German breeders has introduced Chamois Spangled (buff with white spangles) and Blue, all five of these colour varieties are now available in the UK. Examples of Cuckoo have also been created on the continent – but it isn't known if any Cuckoo's have yet been imported.
The Appenzeller Spitzhauben is best suited to a free range system as it is a superb forager. The breed; along with many light breeds has a reputation for being flighty, but this is overcome with gentle handling.
The following books are available. Links take you to the Amazon or other sellers' pages for the books.
These are the breed clubs for Appenzeller Spitzhauben: