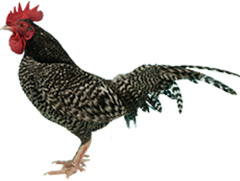 Uses: Rare Breed, Utility – eggs. Eggs: 180 – 200 white.
Origin: Great Britain.
Weight: Cock: 3.2Kg, Hen: 2.25Kg.
Bantam: Cock: 620-680g, Hen: 510-570g.
Colour: Steel grey background with black barring.
Useful to Know: More popular in its native country of Scotland than elsewhere in Britain.
Photo:
The Scots Grey was originally called the Scotch Grey and originated in Scotland where it has existed since the 1800's. It was a popular breed until the 1930's but today, there are only a small number of dedicated breeders.
Research in Progress….!
Photos
Books
The following books are available. Links take you to the Amazon or other sellers' pages for the books.
Breed Clubs:
UK: The Scots Grey Club – Dougie Lindsay, tel: 01361 882965
Australia: The Scots Grey Club of Australia –

[email protected]
Discussion
Please leave a comment below if you can provide further information or have a question about Scots Grey chickens.