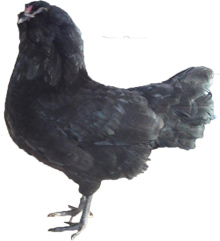 Uses: Exhibition. Utility: eggs.
Eggs: 190 – 220 white / cream.
Origin: Switzerland (Appenzell Canton).
Weight: Cock: 2.26 – 2.94Kg, Hen: 1.36 – 1.81Kg.
Bantam: Only Large Fowl Standardised in the UK.
Colours: Black, Blue, Laced, Black-Red.
Useful to Know: A very active breed so is best suited to a system of free range as it is a superb forager. Unlike the other breed from the Appenzell canton the Barthuhner is not a flighty breed and is fairly calm although males can be aggressive during the breeding season.
Photo: Appenzeller Barthuhner owned by B. Shepherd.
Originating in the North-eastern Appenzell canton of Switzerland, the Appenzeller Barthuhner chickens are thought to have developed in the most remote parts of the country where temperatures were much lower during winter. It was a farmer in the region who created the breed to be able to lay large numbers of eggs on little additional feeding whilst being able to withstand the harsh weather conditions hence the rose comb and small beard covered wattles.
Its beard gives the breed its name – Barthuhner literally translates to 'Bearded Hen'. Unlike most other bearded breeds the Barthuhner is allowed to have small wattles but they should be almost completely hidden by a full beard.
Never very popular in the UK the breed remains under the umbrella of the Rare Poultry Society since the collapse of the joint Spitzhauben and Barthuhner club in 2001. Currently it is believed that only a handful of Appenzeller Barthuhners are in the UK at present.
Take care with males during the breeding season as they can be aggressive.
The following books are available. Links take you to the Amazon or other sellers' pages for the books.
These are the breed clubs for Appenzeller Barthuhners: