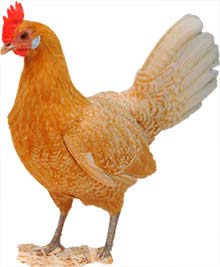 Uses: Rare Breed Conservation.
Eggs: 150-180 white.
Origin: North coast of The Netherlands.
Weight: Cock: 1.4 – 1.6Kg. Hen: 1.2 – 1.4Kg.
Bantam: Cock: 550 – 650g. Hen: 450 – 550g
Colours: Gold Pencilled, Silver Pencilled, Chamois Pencilled.
Useful to Know: Extremely rare now in the UK, yet a very attractive with dark orange eyes, white ear lobes and coming in some attractive colour varieties .
Photo: Chamois Pencilled Fresian Fowl owned by Robin Benson. Photo courtesy of Rupert Stephenson
Friesian chickens (or Friese Hoenkriel) originate in the very isolated northern coastal region of The Netherlands where they remained pretty much undiscovered until relatively recently. They are thought to have existed for at least 1000 years and have been pretty much untouched during this time.
The Fresian is a very small breed and the bantam version is about the same size as a Dutch Bantam. They are active foraging breed. In their native region, they were required to find most of their own food to survive.
The following books are available. Links take you to the Amazon or other sellers' pages for the books.
These are the breed clubs for Friesian: