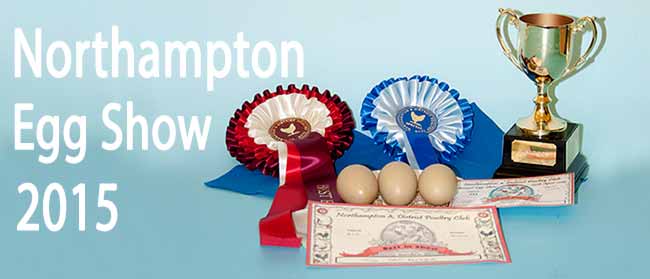 The Clubs 2015 Egg Show was held at Crick Village Hall on Saturday the 25th of April. The show was kindly judged by Mrs Linda Rupniak who joined us for the evening.
The show followed what's become our standard 'Egg Show' format: the visiting Judge gives a short talk explaining about how eggs are judged and provides tips on faults to look out for such as marks on shells and overweight eggs in the case of the bantam classes. An egg in these classes shouldn't weigh more than 42.5 grams. Sadly on judging a couple of the bantam classes, eggs were found to be overweight and as such not placed.
After the talk, members are encouraged to take a judging slip and have a go at judging the eggs too, to see how they place the eggs compared to the judge. There is an award for members choice of 'Best in Show'.
Best Eggs in Show went to 3 Olive Green Eggs entered by Mr Tim McNeight and Reserve Best in Show was awarded to 3 painted Eggs that were made to look like tulips.
There were 140 entries in the 30 classes on offer for the night.
Show Critique
Written by Judge Linda Rupniak
I was honoured to be asked to judge this show. I always enter the Northampton and District shows and to actually turn up as a judge was very special.
The show was, as always, very well run by Mark Anderson Howe who does such a wonderful job and makes everyone feel welcome and nothing is too much trouble for him. He really is a credit to the poultry world.
The hall was very spacious and comfortable and plenty of room for the entrants to display their eggs. The entry was good and the quality was exceptional with no stale eggs or badly prepared eggs.
I awarded BIS to three olive-green large fowl eggs owned by Tim NcNeight. These eggs had strong smooth shells with no pimples or ridges and were a good shape and very similar in type. Tim exceeded himself and entered lots of classes and the quality of his eggs was commended.
Reserve best in show I gave to the most wonderful creation I have seen, simple but perfect in every way.   Three decorated eggs which resembled a trio of tulips. They really did look like the real thing, painted and shaded so well and all three eggs matched perfectly. The owner Rudy Robert said "I just knocked them up this afternoon". A very talented lady who also entered a superb painted Serama egg which won its class.
My only criticism was that a lot of the bantam eggs were over-weight, many were up to nearly 2 ounces. Exhibitors should take note that the maximum for a bantam egg is 1.5 ounces.
I had a really lovely evening and everyone took their awards in a most sportsmanlike manner.
Results
Here are the Egg Show results for all of the 30 classes.
Class 
Description
Winner
Awards
200
3 Bantam dark brown / mottled
Entries Too Big
201
3 Bantam white / cream
Nick Trotman
202
3 Bantam light brown
Shona Wakefield
203
3 Bantam A.O.C
Liam Wykes
204
3 Bantam distinct colours
Rudy Roberts
Members Choice
205
1 Bantam dark brown / mottled
No entries
206
1 Bantam white / cream
M Anderson-Howe
207
1 Bantam light brown
No entries
208
1 Bantam A.O.C
M Anderson-Howe
209
3 Large dark brown or mottled
Tim McNeight
210
3 Large white / cream
Tim McNeight
211
3 Large light brown
Tim McNeight
212
3 Large A.O.C
Tim McNeight
Best in Show
213
3 Large distinct colours
Tim McNeight
214
1 Large dark brown / mottled
Toddy Hamilton-Gould
215
1 Large white / cream
Toddy Hamilton-Gould
216
1 Large light brown
Rudy Roberts
217
1 Large A.O.C
M Anderson-Howe
218
A.C 6 Bantam Eggs
Andrew Godridge
219
A.C 6 Large Eggs
Tim McNeight
220
6 Waterfowl
M Anderson-Howe
221
3 Waterfowl
Liam Wykes
222
1 Waterfowl
M Anderson-Howe
223
Bantam contents
M Anderson-Howe
224
Large contents
Peter Goodridge
225
Waterfowl contents
Rudy Roberts
226
3 Painted or Decorated Eggs
Rudy Roberts
Reserve
226A
Single Painted or Decorated Egg
Rudy Roberts
227
Adult: A5 colour print
(Single fowl )
Blanche McCartney
228
Adult: A5 colour print
(any poultry subject)
Rupert Stephenson
229
Juvenile under 16: A5 colour print (any poultry subject)
No entries
 Photos
Courtesy of Poultry Photographer Rupert Stephenson.