Sunday the 25th October, the club held its second show at our new poultry show home at Bugbrooke Community Centre, Northants. We were joined for the day by three Cornish poultry judges Mr Rodney Gregory, Mr Jake Gregory and Mr Adam Simmons.
The show had a total entry of 408 entries (330 birds and 78 entries in the egg classes) and continues to attract a very strong true bantam entry with Seramas and Pekins very well represented, as well as a very strong junior section.
The awards presentation saw a couple of firsts: a new award for Best Soft Feather Light Bantam, in memory of the club's late President and past Chairman Wilf Simms. This was presented to Simon Patel's silver spangled Hamburgh by Wilf's widow Joyce Simms.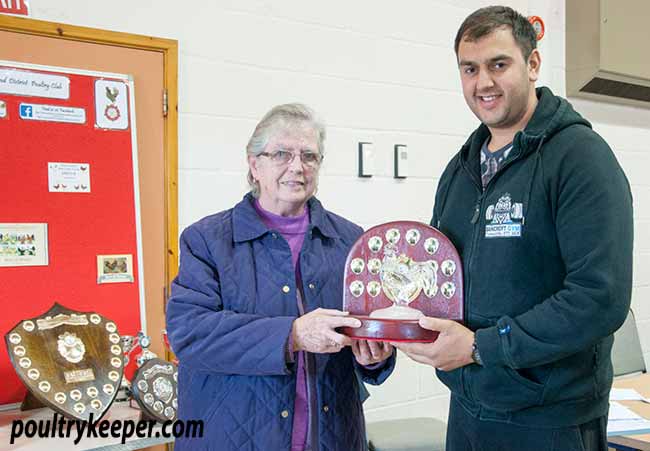 Joyce Simms presented the Wilf Simms trophy for Best Soft Feather Light Bantam to
Simon Patel.
The Club's new President Rupert Stephenson also presented a bottle of wine as the 'President's award' to the bird he and partner Blanche most liked at the show. This award went to Alison Wells and Robert Harrison's Partridge Brahma which went on to make Championship row at the National.
Once again I would like to thank all the clubs supporters, be it committee, helpers, sponsors, Judges and exhibitors for all their continued support we now look forward to the club's next show on Valentines day Sunday 14th Feb 2016. This will be the club's second Poultry Club of Great Britain Regional status show so if you love poultry, why not pop along and join us?
Photos
Here are a selection of photos of the winning birds from the show. All photos are courtesy of Rupert Stephenson.
Results
Here are the main show winners:
| | | |
| --- | --- | --- |
| Award | Breed | Owner |
| Best in Show | Buff Wyandotte | Kerry Wilson |
| Reserve Best in Show | O.E.G Bantam | Adam Dowden |
| Best Utility Breed | Cream Legbar | Emily DeGray |
| Best Rare Large Fowl | Cream Legbar | Jill Rees |
| Best Rare Bantam | Sumatra | Simon Patel |
| Best Large Fowl S/F Heavy | Brahma | Harrison & Wells |
| Best Bantam S/F Heavy | Buff Wyandotte | Kerry Wilson |
| Best Large fowl Hard Feather | O.E.G pullet | John Messenger |
| Best Bantam Hard Feather | O.E.G Bantam | Adam Dowden |
| Best Large Fowl S/F | White Silkie | David & Carole Pell |
| Best Bantam S/F | Silver Spangled Hamburg | Simon Patel |
| Best True Bantam | White Pekin | Ann Sullivan |
| Best Waterfowl | Muscovy | J Edmunds |
| Best Eggs | Six Bantam Eggs | D&K Brown |
| Best Trio | Wyandotte | Kerry Wilson |
| Best Juvenile | Sulmtaler large fowl | Eden Rees |
| Best Turkey | PEN 268 | C Wood |
| Best Goose | PEN 267 | C Wood |
| Best 2015 Bred Bird | PEN 296 | Jill Rees |