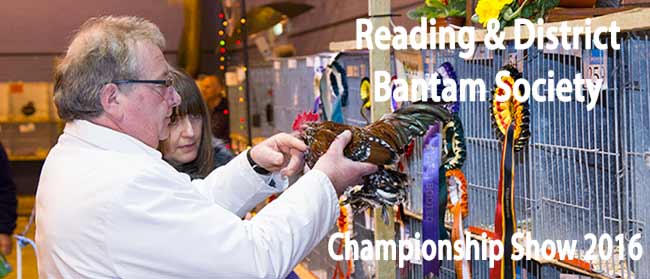 The Reading and District Bantam Society Championship show was held last weekend (27th-28th February) and I was again really pleased to be invited to take photos.
With 2256 bird and egg entries and more than 500 people coming through the door, the show continues to be the most important event for fanciers interested in bantams. This year, the championship judge was Andrew Wetters who chose a beautiful white Wyandotte pullet exhibited by Allan Brooker as the Best in Show and a lovely white female Pekin Bantam exhibited by Mr and Mrs Simms as the Reserve Best in Show.
If you had a bird photographed and would like a copy of the high-resolution images, then please email me (admin@poultrykeeper.com) if you haven't already and I will send them out to you over the next few days.
My thanks go to the Reading and District Bantam Society committee who made me feel extremely welcome and clearly worked very hard to make this show such a success.
The Results
Here are the results from the show.
Congratulations to Allan Brooker, the Best In Show with his beautiful white Wyandotte and Mr and Mrs Sims with their White Pekin Bantam as Reserve Best in Show.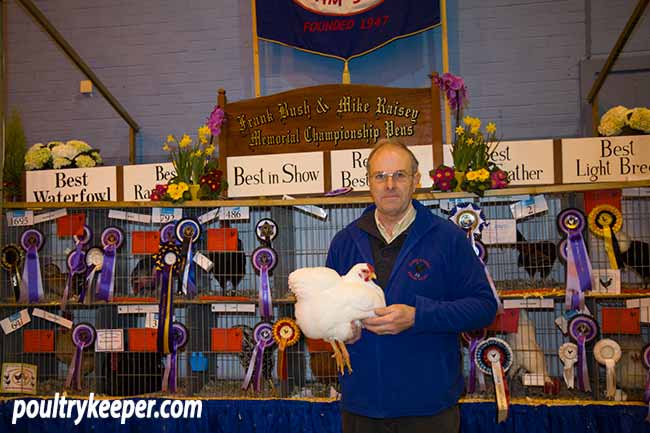 Allan Brooker with his white Wyandotte Bantam.
The Main Results
Best in show – Allan Brooker's white Wyandotte female
Reserve – Mr & Mrs Sims white Pekin female
Soft feather light – S & G Hodges white crested Poland
Hard feather – Jackson & Lutey Old English Game black red male
Rare – Jenny Campbell's cuckoo Naked Neck female
Waterfowl – Val Kitt's mallard Call duck
Trio – Jackson & Lutey's black German Langshans
Juvenile – Tom Marsh's Belgian
Eggs – Sandy Vaughan 3 cream bantam eggs
Best of Breeds
Here are the Best of Breed Results.
[tabgroup]
[tab title="Soft Feather Heavy" id="t1″]
Australorp – Anita James
Barnevelder – David Baker
Brahma – K & J Dowrick
Croad Langshan – Merchant & Tilling
Faverolles – C Norman
Frizzle – Ray Parsons
German Langshan – B & C Ward
Marans – J McKeating
New Hampshire Red – C A Compton
Orloff – Helen Cooper
Orpington – S & G Hodge
Plymouth Rock – Robin Ramus
Rhode Island Red – J A Raymond
Sussex – Keith Barnes
Wyandotte- Allan Brooker[/tab]
[tab title="Soft Feather Light" id="t2″]
Ancona – C Hammond
Appenzeller – C Edmonds
Araucana – Lee Pedley
Hamburgh – J Owen
Leghorn – T Paice
Minorca – K Brown
Poland – S & G Hodge
Scots Dumpy – T Hamilton-Gould
Silkie – L Smith
Welsummer – Phillips & Moreira[/tab]
[tab title="True Bantams" id="t3″]
Belgian – M Hughson
Booted – R Boden
Dutch – S York
Japanese – N Hutchinson
Pekin – Mr & Mrs Sims
Rosecomb – S & G Hodge
Sebright – J Robinson
Serama – M Chenery[/tab]
[tab title="Rare Breeds" id="t4″]
Burmese – H Caudrey
Friesian – D Webber
Kraienkoppe – B & C Ward
Nankin – C E Handley
Ohiki – H Berry
Rumpless – A Marnent
Silician Buttercup – H Caudrey
Sulmtaler – J Freeman
Sumatra – S & G Hodge
Thuringian – W Shackel
Naked Neck – Jenny Campbell
Vorwerk – Jane Freeman
Yokohama- C Hull[/tab]
[/tabgroup]
Junior Results
This year there were some new medals for juvenile exhibitors who had their own Championship Row! Well done RDBS for encouraging the next generation!
GOLD Best Junior (Belgian) – Tom Marsh
GOLD Best Handler – Freddie Lawrence
SILVER Reserve Junior (hard feather) M Simmons
SILVER Reserve Handler – James Hamilton
BRONZE Best soft feather – Finn Tippetts
BRONZE Best true – Charlie English
BRONZE Best waterfowl – Tom Marsh
BRONZE Best eggs – M. Simmons
BRONZE Pekin – Charlie English[/tab]
Photos
Here are some photos of the winners and some of the other birds at the show. More will appear in Fancy Fowl Magazine soon.
Click images to see them full size