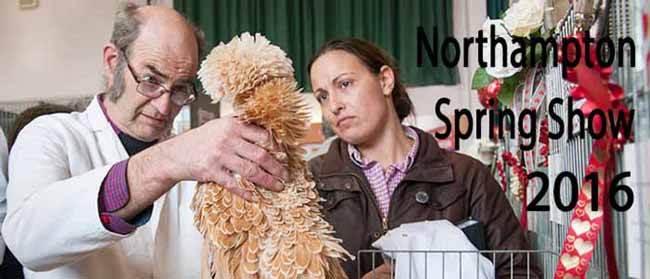 Well, for the Club's second Poultry Club of Great Britain Regional Show, held on Valentine's day 14th February 2016, the love of poultry keeping was certainly in the air with a Valentine theme for the day.
The show had a total entry of 675, made up of 555 birds and 120 egg entries. Joining us for the day we welcomed five judges Mr Chris Parker: Hard Feather, Juniors and Rare Breeds. Mr Joe Harrison: Soft Feather and Waterfowl. Mr Tim Moss: True bantams plus Utility and Trio classes. Mrs Julia Jessop: True Bantam (Seramas) and Mr Tim McNeight: Egg classes. The biggest class was the True Bantams with 191 entries, 81 being Seramas, hence the need to appoint a specialist breed club judge and Julia Jessop stepped in leaving Tim Moss with 110 True bantams, 72 of which were Pekins.
Mr Chris Parker had 72 Hard Feather 50 Rare Breeds and 31 Junior entries to deliberate over, with Mr Joe Harrison judging the 61 Soft Feather large fowl, 92 Soft Feather bantams and 48 Waterfowl and Mr Tim McNeight the 120 Egg classes.
The club was delighted to be able to award a number of new trophies and awards, notably two new shields donated by the Northants Native Breeds Club. A new Waterfowl trophy donated by Mrs June Wilson, Junior Handler Cup donated by the Anthony family, Best Utility fowl cup donated by Mr Colin Wood, Best Trio Cup donated by Elaine Oliver and 3 trophies including best Serama trophy donated by the Anderson-Howe family.
The second hall featured a number of trade stalls including the Rare Breeds Survival Trust, British Waterfowl Association, Brinsea incubators, Fowl Play Books, and show sponsors Bagforce.
The Club is extremely grateful to all the supporters and helpers for all their hard work over the weekend and now look forward to the Club's Egg show on Saturday 21st May 2016 at Crick Village Hall Northamptonshire NN6 7SX .
Results
Best in Show: Buff Laced Wyandotte – Kerry Wilson
Reserve Best in Show: O.E.G Bantam – Mr S. A. Owen
Best Utility Breed: Indian Game – Mr & Mrs R Dowden
Best Rare Large fowl: Norfolk Grey Male – B. Burford & S Bowsher
Best Rare Bantam: Krienkoppe Male – B & C Ward
Best Large fowl: S/F Heavy Brahma (Gold) Male – C Holtom
Best Bantam: S/F Heavy Buff Laced Wyandotte – Kerry Wilson
Best Large fowl Hard Feather: Oxford O.E.G Male – Mr Colin Wood
Best Bantam Hard Feather: O.E.G Bantam Male – Mr S. A. Owen RES
Best Large fowl: S/F Araucana Male – Sarah Litchfield
Best Bantam : S/F Poland Hen – Linda Lane
Best True Bantam: Serama Male – Maddy Chenery
Best Waterfowl: Muscovy – C Holtom
Best Eggs: 3 Any Other Colour Eggs – Christopher Bennett
Best Trio: Modern Game Bantams – Dean Wesley Adams
Best Juvenile: Bantam Silver Appleyard – D.S.L.V (Callum)
Best Turkey: Cröllwitzer Stag – Janet Taylor
Best Goose: African – Kathryn Brown
Best Junior Handler: Chantelle Walker
Photos
All photos are courtesy of poultry photographer Rupert Stephenson.