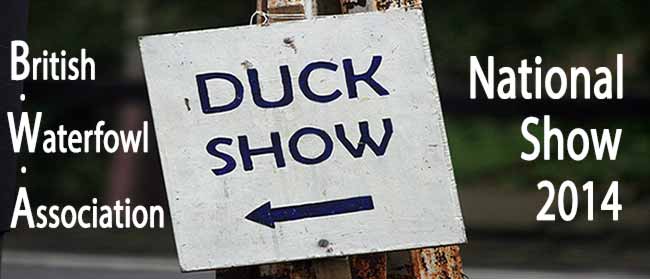 On Sunday, I packed my photography gear and a pair of my best ducks and headed off to the British Waterfowl Association's 27th National Championship Waterfowl Exhibition held at Moreton Morrrel near Warwick.
As the winter show season approaches and I decide which shows to go to, the British Waterfowl Association National Championship show is always high on my list. I've got a keen interest in waterfowl – I keep Brecon Buff geese and Abacot Ranger ducks at home but it's always interesting to see some different breeds, and to talk to some like-minded people, picking up a few tips from them along the way.
I usually take along a few of my Abacot Ranger ducks (the geese don't fit in the car with the photo studio equipment) and enjoy doing an inspection of the entries in this class with other breeders, giving our opinions, the good points and bad points and comparing our views with those of the judges.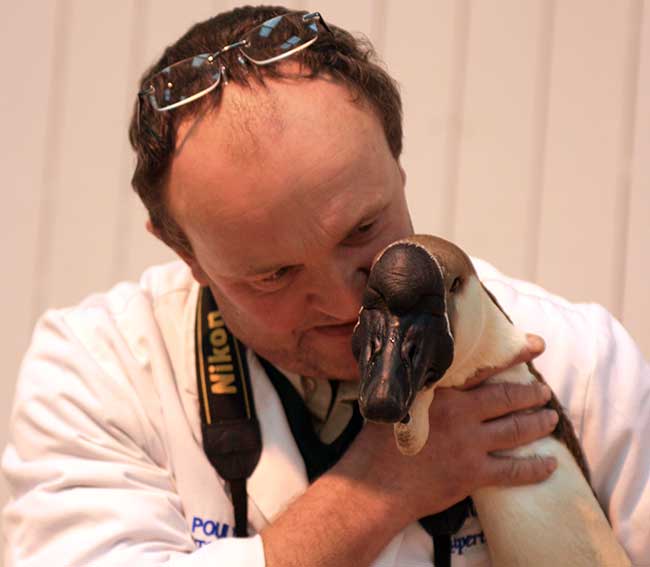 Rupert 'has a word' to see if it's OK to take a photo.
Rupert Stephenson and I took some photos of birds and their owners, although this year it was a real rush to get championship row before the end of the show. Judging finished just half an hour before 'boxing time'. Even so, I'm fairly pleased with my photos and between us, we should just about have everything covered.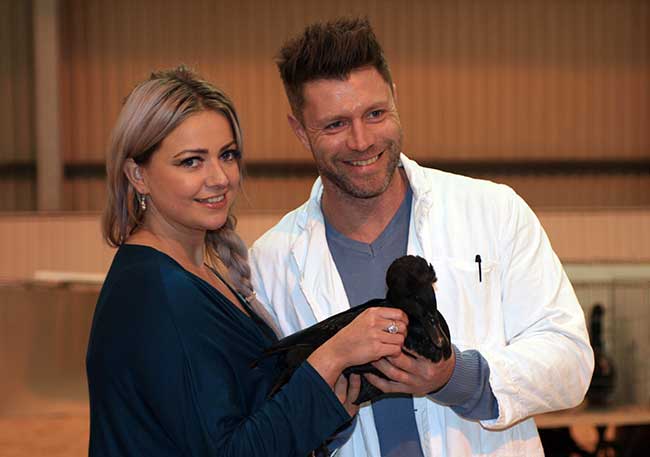 Stewards Glenn Lenton and Joanne Lusby.
It's always nice to see new faces and novice Katie Neale entered her first show with her Call Ducks Dolly and Daisy winning a 2nd and 3rd place.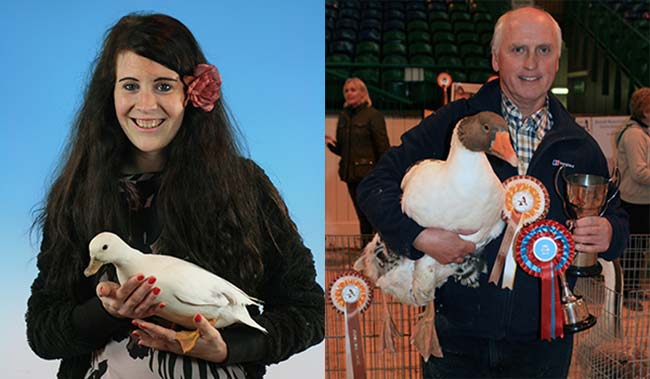 <Left> Novice Katie Neale's first show – she got 2nd and 3rd with Call Ducks 'Dolly' and 'Daisy'.
<Right> Alec Grey who won the Champion Medium Goose / Gander with his Pomeranian.
Championship Row had some wonderful birds that were selected by the championship judge Andrew Wetters. Champion Medium Goose / Gander went to Alec Grey with his Pomeranian.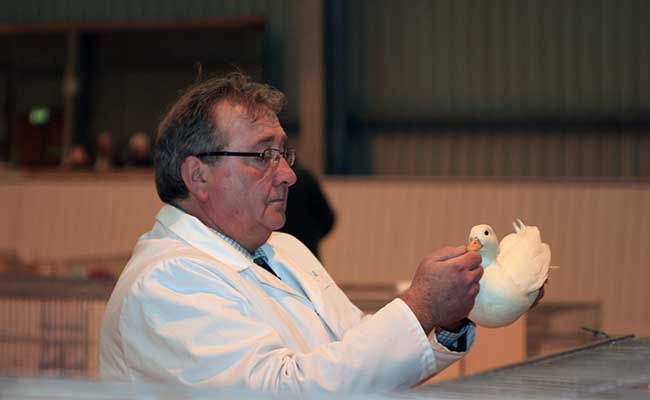 Andrew Wetters Championship Judge inspects a Call Duck on Champions Row.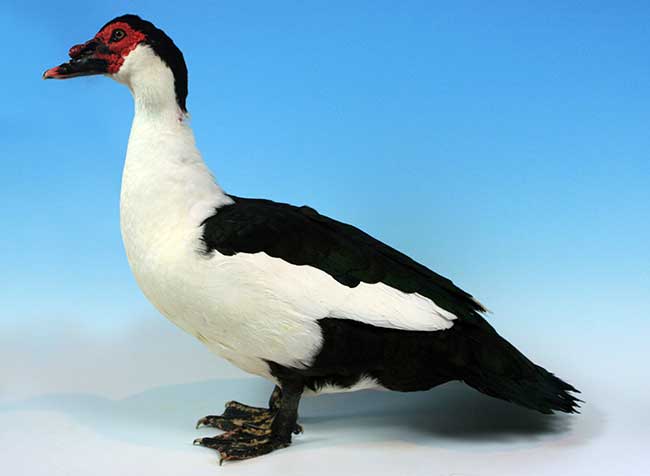 Best Heavy Duck, a Muscovy went to the Holtom family.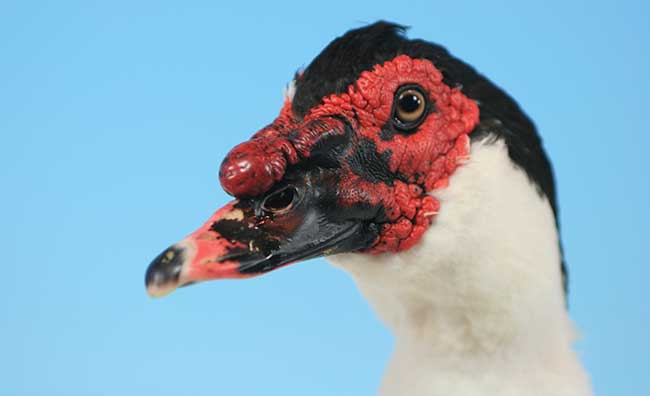 Below: Best Crested Duck owned by Antony Stanway.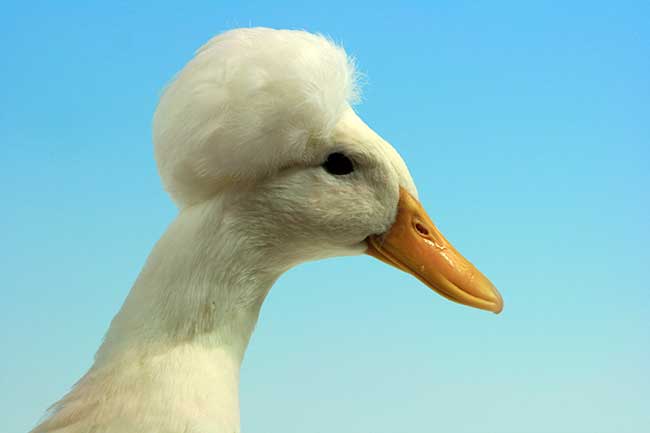 She wouldn't stay still to be photographed so we could only take a photo of her head and crest.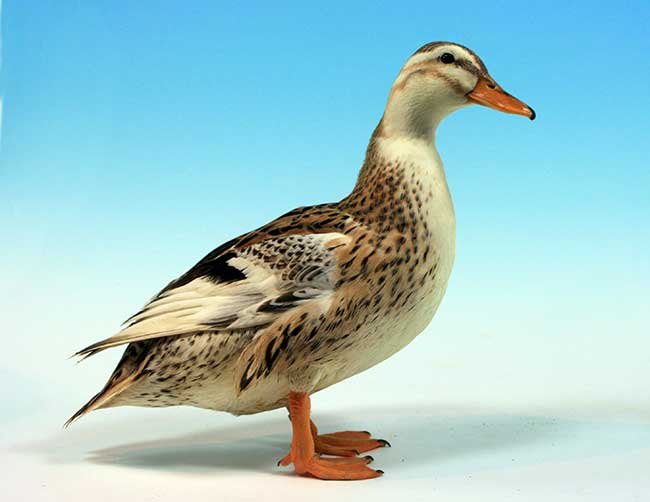 Best Bantam Duck – a miniature Silver Appleyard, owned by the Mayers Family.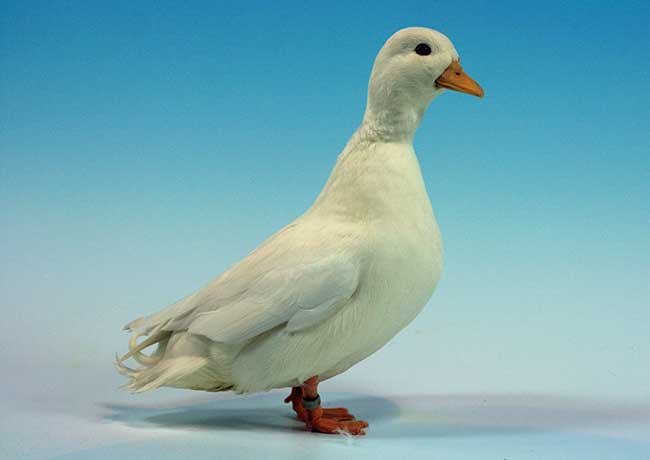 Best Call Duck was a White Call owned by Sue Bray Hinchliffe.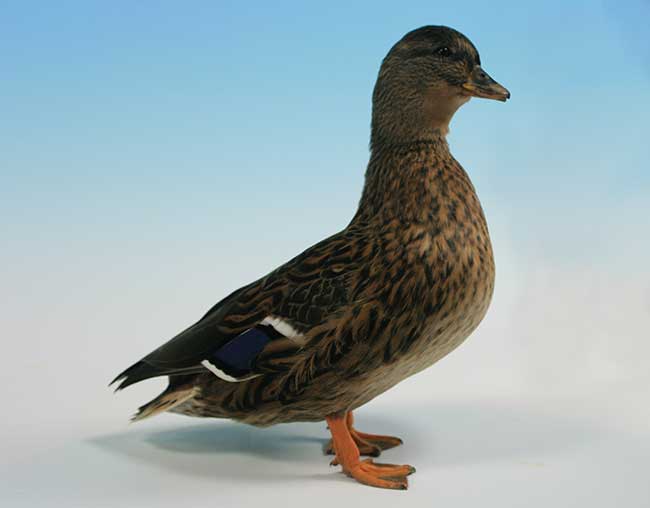 Champion Duck and Reserve Best Call Duck was a Mallard Call owned by Mike and Chris Ashton.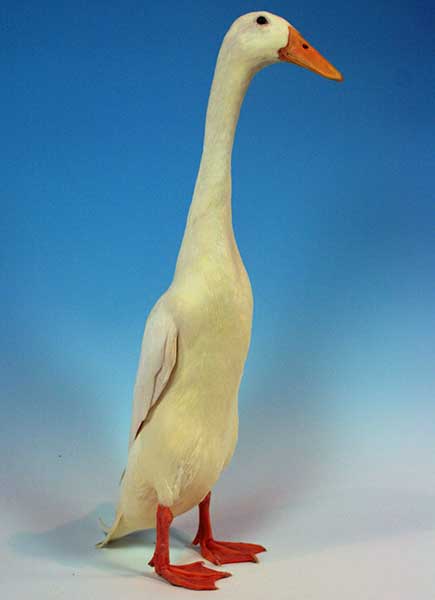 Reserve Show Champion went to a cracking white Indian Runner owned by Tony and Sue Axon.
The Show Champion for 2014 was a gorgeous chatty African Gander owned by Mike and Chris Ashton. It's hard to appreciate his size from a photo but he was big!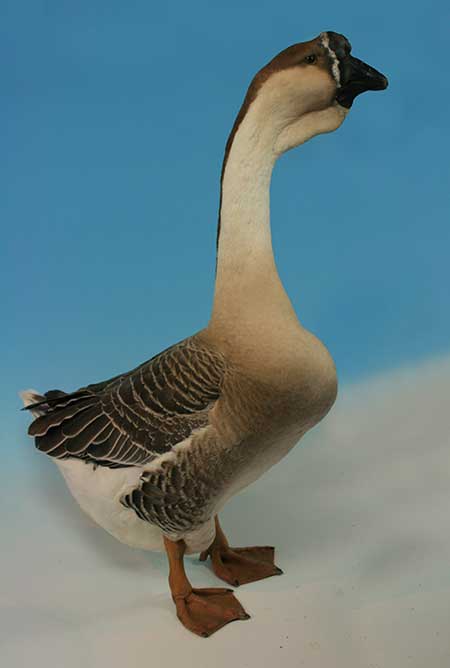 Chris and Mike Ashton's African gander that won Supreme Show Champion.
This gander really was in beautiful condition and certainly stood out.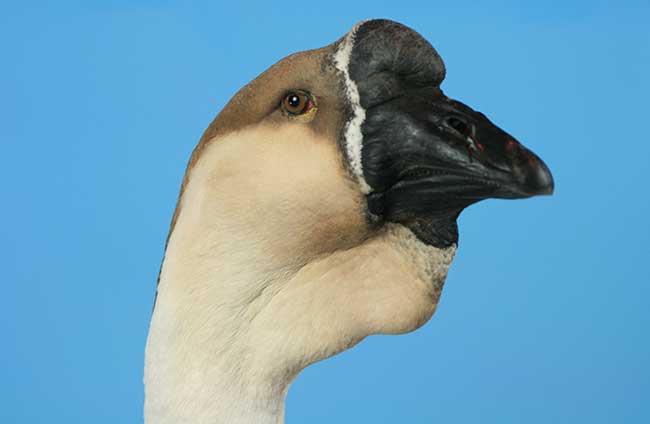 Incidentally, the weekend before, he had also won show champion at the Builth Wells show, beating not only the waterfowl entries but also the chickens!
Finally, in case you're wondering how I got on, my Abacot Drake got a 3rd place and my duck got a 1st. I was really pleased with this, although to be fair there wasn't a huge amount of competition! Here she is the week before the show: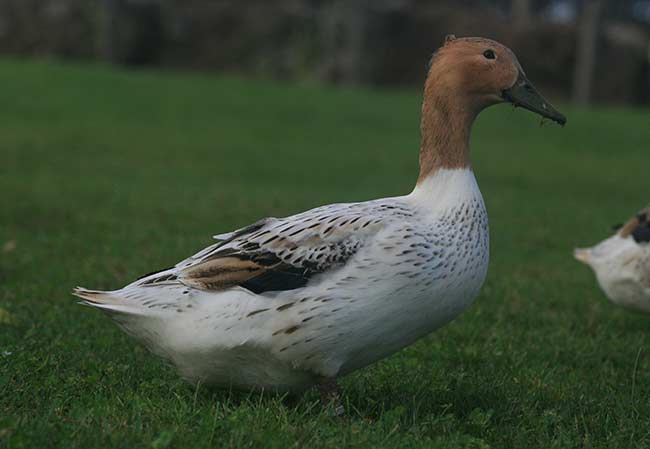 My best Abacot Duck at home a week before the show.
Overall, the day was a great success and I'm very grateful to the BWA for accommodating us. If you're interested in waterfowl, I can highly recommend you visit next year's show but before that, why not consider joining the British Waterfowl Association? Their magazine 'Waterfowl' is easily worth the membership before you consider any of the other benefits of membership or their fantastic open days.