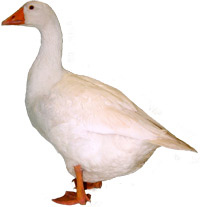 Uses: Utility – good meat to bone ratio. Eggs: 40 to 60 white eggs per year.
Origin: Germany / Poland.
Weight: Gander: 5.4 – 6.3 Kg. Goose: 4.5 – 5.4 Kg.
Colours: White.
Useful to Know: Occasionally, the odd grey patch can appear in offspring. This is a fault, although light grey feathers on the back and rump in first year females will fade and is permitted.
Photo: Roman Goose owned by Mrs Erica Hughes. Photo Courtesy of Rupert Stephenson.
Roman Geese are small chubby white geese with a short neck that carry a large amount of meat on them. They are slightly bigger than Czech Geese and slightly smaller than Diepholtz Geese. They are originally believed to have come from selected strains of Italian geese created as far back as 350BC during Roman times.
Roman Geese were imported into the UK during the early 1900's and entered the British Poultry Standard in 1954. They have light blue eyes and orange to pink bill and webs / feet. Some Roman Geese are tufted. Both tufted and non-tufted can be shown in the UK although the American Standard of perfection requires a tuft. They are called Tufted Roman in North America where they were standardised in 1977.
The temperament of the Roman Goose can vary although as with all geese, their upbringing has a fairly large part to play in this.
Photos
Books
The following books are available. Links take you to the Amazon or other sellers' pages for the books.
Discussion
Comments / Questions? Looking for stock? Visit the Waterfowl Section of our Forum
Please leave a comment below if you can provide further information or have a question about this breed.