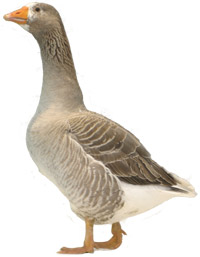 Uses: Utility – meat, relatively fast growing. Autosexing.
Origin: UK. Eggs: 20 to 40 white eggs per year.
Weight: Gander: 6.3 – 8.2 Kg. Goose:  5.4 – 7.3 Kg.
Colours: Ganders: White, a little grey. Geese: Light Grey.
Useful to Know: Most Pilgrim Geese are very tame if hand reared and have good parenting qualities. For breeding, birds should be selected for correct autosexing. The ganders are charming and attentive to their geese. During the breeding season in spring to early summer they can demonstrate particularly protective behaviour. This is really a lot of bluff that ceases when he moults.
Photo: Colin Murton's Champion Pilgrim Goose.
Pilgrim Geese are relatively quiet, light weight geese that are one of only two autosexing breeds of geese standardised in the UK (note they are not sex-linked as some say – there is a difference see autosexing).
On hatching, males are yellow and silver-grey with orange bills, females are olive-grey with dark brown bills. As goslings grow, it is easy to tell the difference between them by the colour of their down. Female goslings also have darker bills than the males. By 4 weeks old the males are clearly white with white feathers coming through and the females are grey.
The eyes of mature birds are blue in the male and brown in the female (unlike the female West of England, the other autosexing breed, that are blue). Adult ganders are almost pure white with a little grey feathering on their wings, backs and tail feathers. Geese are a light grey colour.
It is believed by many that Pilgrim Geese originated in England and were exported to America amongst other places. It was the development during the 1930's by Oscar Grow in America that is well documented and gave the Pilgrim Goose its name.
Pilgrim Geese are relatively fast to grow and where Pilgrim Geese are used commercially for meat (mainly in the US) it is said that they look similar to exhibition strains.
The Pilgrim Goose was standardised in America first in 1939 and later in the UK in 1982.
Photos
Books
The following books are available. Links take you to the Amazon or other sellers' pages for the books.
Discussion
Comments / Questions? Looking for stock? Visit the Waterfowl Section of our Forum
Please leave a comment below if you can provide further information or have a question about Pilgrim geese.