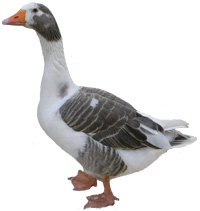 Uses: Utility – meat and eggs. Useful autosexing characteristic.
Eggs: 20 to 50 white eggs per year.
Origin: UK.
Weight: Gander: 7.3 – 9.1 Kg. Goose: 6.3 – 8.2 Kg.
Colour: Ganders: White. Geese: Pied Grey and White.
Useful to Know: An autosexing breed.
Photo: West of England Goose, BWA Best of Breed at the Poultry Club National 2009.
West of England Geese (like Pilgrim Geese) are an autosexing breed. These two breeds are the only true autosexing geese that can be sexed at hatch.
Ganders are white and geese are grey and white. Both goose and gander have a slightly pink-orange bill, legs and webs. The West of England Goose was first standardised in the UK in 1999.
Photos
Books
The following books are available. Links take you to the Amazon or other sellers' pages for the books.
Discussion
Comments / Questions? Looking for stock? Visit the Waterfowl Section of our Forum
Please leave a comment below if you can provide further information or have a question about this breed.