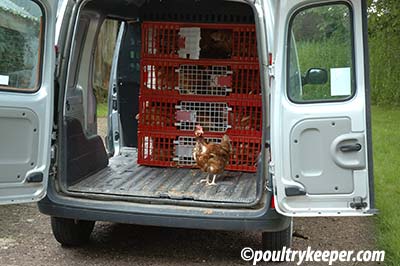 The British Hen Welfare Trust has rescued and re-homed over 120'000 ex-battery hens (as of January 2009), that is hens that have reached the end of their useful life in battery farming. This article describes a typical day of a battery hen rescue co-ordinator and is reproduced with kind permission from the British Hen Welfare Trust.
We arrive at the farms as early as possible often towing trailers with specially fitted tarpaulins which protect the birds from adverse weather conditions, but allow adequate airflow.
We always find the farmers friendly and obliging and have built such solid trust that many of us carry out our work without their involvement, needing only to be pointed to a line of hens to begin the 'depopulation' process. Most of us work in small teams, each person specialising in a role: some take the birds out of their cages handing them to the 'runners' who carry the hens down the corridor to the 'packers' who then place the birds gently in the crates. We work swiftly to minimise the time they spend in the crates, but take time to pull aside the occasional hen which requires examination back at base, our 'poorlies' as we call them.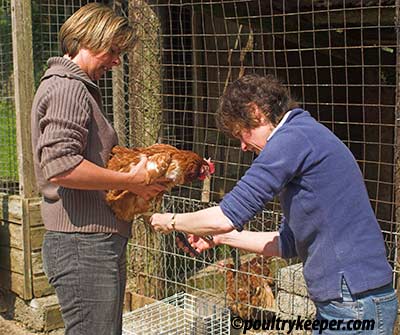 Once the hens arrive at base (the Co-ordinator's home), they are unloaded and get to stand on solid ground. Nothing quite beats the sight of seeing hens look around them for the very first time – there's no roof, just sky – no wire, just ground to scratch; space to stretch and flap, freedom to take a few tentative steps forward. It doesn't take many minutes for instincts to return, wings to spread and absorb the sunshine, beaks to discover the joys of drinking great gulps of water!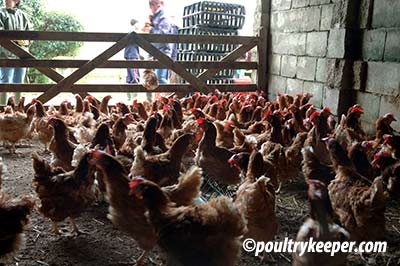 We never knowingly re-home a poorly hen but retain any that are unsuitable for adoption keeping them in our 'henspitals'. Fortunately, only a tiny minority are unsuitable for re-homing and so after a rest and a toenail manicure (some birds come out with very long nails due to standing on wire), the adoption process begins and a steady stream of caring re-homers arrive to adopt these little 'fortunates' who have escaped the trip to the pie factory.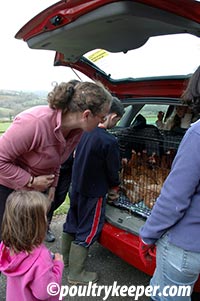 We re-home the vast majority of the girls on the day they come out of their cages; there are two reasons for this. Firstly it ensures they can settle into their new permanent homes as soon as possible. Secondly, and more importantly, each hen that leaves for her new life is a wonderful ambassador for those we leave behind. No amount of words is as effective as watching the hens' bewilderment turn into wonderment at their new turn of fate. Anyone who has taken ex-bats will agree and know this is the best 'education' of all.
As the re-homers arrive to collect their hens, last-minute checks are made to ensure they will be transported safely to their new homes and demonstrations on how to handle them offered to first-time keepers.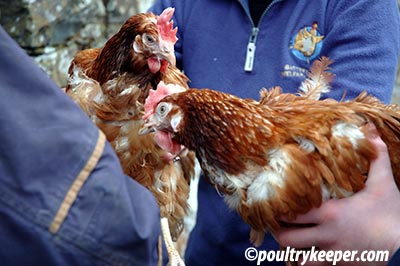 Details of re-homers are retained to provide full traceability in the event of an outbreak of a notifiable disease and once the birds have gone off to their new lives, the Co-ordinator will thoroughly cleanse and disinfect the transportation equipment using a DEFRA approved disinfectant.
At the end of a Hen Collection Day, a happy, tired Co-ordinator is one who has saved many lives and seen the hens on their way to a free range retirement knowing there are so many well-wishers and like-minded supporters, all of whom agree the laying hen deserves a better lot in life."
A Note about Battery Hen Egg Products.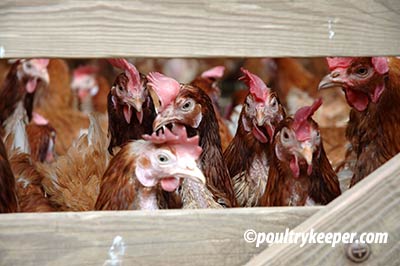 Until visiting the British Hen Welfare Trust's website, I didn't appreciate just how I'm contributing to the existence of these hens since I have my own hens that provide my family with our eggs and I wouldn't dream of buying a caged egg from a shop. However, I didn't think about the processed food industry and there are many products containing these eggs like mayonnaise, ice cream or custard for example.