The Complete Guide to Raising Turkeys
Author: Janice Houghton-Wallace
Publisher: Farming Books and Videos Ltd.
Edition Published: 1st August 2007
Softback: 160 pages
ISBN-10: 1904871186
ISBN-13: 978-1904871187
Available from: Amazon
When I started getting interested in Turkeys a couple of years ago, I decided to have a look around for a good book. Being a great Amazon fan, this was where I began but unfortunately after spending close to £20, I found I was very disappointed with the book I had bought.
It wasn't until last year that I picked up the name of Janice Houghton-Wallace (founder of the UK Turkey Club incidentally) whilst reading an article she had written and I wondered whether I should investigate further to see whether she had any books published on keeping Turkeys. Well, I wasn't disappointed, she had a book called 'Not Just For Christmas' which has now been added to my ever-growing collection of poultry books.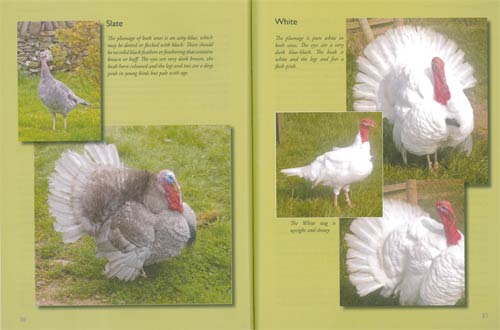 This 160 page book has over 150 great colour and black and white photos. It is broken down into thirteen manageable chapters and a few appendices that contain useful information. The layout is good and you can easily dip into it to find specific bits of information.
Chapter one briefly covers the history of the turkey and chapter two dives in to the breeds of turkey available. Both wild and domestic turkeys are described and there are several pages of well presented colour photographs as examples of the breeds. Within 15 minutes of starting this book, I found myself far more knowledgeable on the available breeds and was immediately wondering whether I could possible fit a small number of the rarer coloured turkeys into my collection of poultry. The third chapter "Turkeys..Not Just For Anyone" brought me back down to earth. Janice gave practical advice on taking such a leap and this was just what I needed. For example, Janice tells us about how she was required to obtain planning permission, even in a relatively remote area of Scotland and I had no idea that a gobble from an adult stag (or Tom as they call them in the US) can be heard from almost a mile away… It pays to do some research first!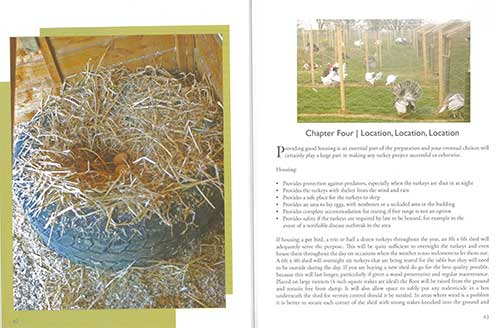 Housing and fencing requirements, stocking rates and feeding are all covered well in the next few chapters.
There's even a great recipe that you can make to feed a sick turkey that I quite fancied tasting myself!
Breeding is covered well both naturally and via an incubator and I particularly enjoyed Chapters 10 and 11 – "Back to the Future?" and "Reaping the Rewards" which covered rearing, marketing and selling a small flock of organic turkeys for the Christmas market. This would be particularly useful to smallholders intending to start with a small organic flock.
The last few chapters of the book cover not only the slaughter and preparation of turkeys but also the other uses that are becoming more popular – keeping turkeys as pets and taking them to shows as exhibition birds… both of these shouldn't be overlooked and these final chapters of the book round things off nicely.
Conclusion.
So what is the book like? In one word, I would say 'excellent'. This really is a complete guide to raising turkeys, written by a dedicated and knowledgeable turkey fanatic. Janice covers all aspects of keeping turkeys from incubating and hatching poults to preparing them for the table. Janice reminds us that these majestic birds can be very charismatic and rewarding to keep and can be kept as pets so are indeed 'Not Just for Christmas'.
[button link="https://poultrykeeper.com/click/shop-amazon/not-just-for-christmas-book/" color="blue" align="right" target="_blank" size="large" caption="Buy on Amazon"]Click Here to[/button]
Have you read this book? If so, please leave your review in the comments box below to let us know what you think.