Guidelines for Supplying Hatching Eggs
These guidelines have been written to provide eBay sellers (or others supplying hatching eggs), some recommendations and guidance that can be referred to when selling hatching eggs on-line.
They can also be used to educate buyers, so they know what to expect from sellers who are working to these guidelines.
Only provide a link to this article from your listing if you are working to these recommendations.
Recommendations for sellers
When selling eggs, there are a number of good practice recommendations that can be followed to obtain the best possible results for buyers:
Your stock should be free of disease and in good health before you sell hatching eggs.
Eggs should be the correct size and weight for the breed. Young birds will lay smaller eggs that aren't suitable to incubate. Ducks will usually lay on the floor so keep bedding fresh.
Eggs should be collected regularly as soon as possible after laying to keep the risk of bacterial infection to a minimum.
Nest boxes should be kept clean to avoid contamination.
Eggs should be stored in a cool place ideally between 5 and 15⁰C. An unheated garage or outbuilding is usually ideal for this. One of the biggest failures of hatching eggs is when eggs are left at room temperature for too long. The embryo starts to develop and will die before the eggs are ready to be incubated, or, shortly into incubation.
Eggs should be sent within 3 days of being laid (First Class postage aims to deliver the next working day including Saturdays but sometimes this doesn't happen). This ensures there is sufficient time for transit as well as settling time when they arrive to give your buyer the best possible chance of success.
If posting your eggs 1st Class, obtain proof of postage so that you can prove eggs were posted in the event of a dispute.
Notify your seller when eggs are dispatched so they can be prepared and available to take delivery.
Washing eggs
Chickens eggs should be collected from clean nest boxes and don't require washing. Waterfowl eggs are often mucky from being laid on the floor and may need to be washed and sterilised. If you are washing eggs before sending them, be sure to let your buyer know in advance. Use an incubation disinfectant such as the one produced by Brinsea.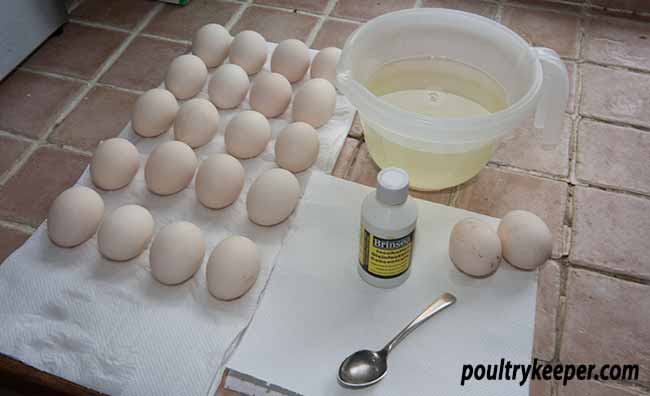 Once eggs are sterilised, do not handle them afterwards unless you have washed your hands thoroughly with an anti-bacterial hand wash.
Packing hatching eggs
Purpose made 'poly-boxes' are by far the best way to send eggs through the post. I have never had eggs break and they are at least padded from rough handling. You will need poly-boxes that are the right size for your eggs, some tissue for padding if eggs do not fit snugly and some wide tape for securing the box before addressing and posting.
Advice to buyers
When buying hatching eggs, there are a number of things to keep in mind.
Eggs are remarkable, they can remain fertile for a couple of weeks. For the best results though, make sure eggs are no more than a week old from being laid to going in the incubator.
When eggs arrive, they will need storing and turning before incubation for 24 hours in a cool place, ideally between 5 and 15⁰C.
Carefully cut the tape that holds the two halves of the poly-box together and put the box at 45 degrees (one end propped up). Alternate ends so the eggs are turned twice over the next 24 hours before incubation.
Pre-heat your incubator at least 24 hours in advance and allow it to come up to the correct temperature and humidity for the species you are incubating.
If eggs are cold, let them rise to room temperature for an hour but no longer before placing them into the incubator.
Leave them for 7 days before candling. The embryo is most delicate during the first days of incubation and rough handling or a knock will cause them to die. Take particular care if you are tuning eggs by hand in your incubator.
Pure breeds can be difficult to hatch! Remember this when you are buying eggs and don't expect amazing results from small numbers of eggs. If you want chicks to fly out then buy a cross-breed (Hybrid) or from a seller who has an unrelated cock but remember unrelated birds of the same breed will have more of a mixture of genes and you may end up with a lot of variation in the offspring. In simple terms you'll have the odd good bird and many 'not so good' birds so this may not be the best route for you if you are looking to have show quality birds.
The Postal System.
There is a lot of talk on auction sites about sellers "not being responsible for circumstances beyond their control" in so far as rough handling by the courier or Post Office or extreme temperatures. This is to be expected. It is a gamble posting eggs!
If you are concerned about eggs going through the postal system, you would need to find a seller that will allow you to collect eggs. 1st Class Post aims to deliver the next working day including Saturdays. Sometimes this doesn't always happen though, I have had eggs turn up after 2 weeks.
Whilst there is compensation available up to £20 for first class postage, strangely fertile eggs are classed as 'live animals' and it is rare to be able to claim compensation. You must therefore accept the delay or loss of your eggs using this posting method, or ask your buyer before the sale who is responsible for them if they do go missing.
Sterilised eggs
If you are buying waterfowl eggs, there is a good chance they will be mucky having been laid on the floor. Some buyers will be able to wash and sterilise eggs before sending them. If they do, remember that once sterilised, eggs should not be handled without first washing your hands well with an anti-bacterial hand wash.
Ready to Incubate? You can read Setting up your Incubator for a Successful Hatch for more information.
The following two tabs change content below.
Tim is the founder of the poultrykeeper website and lives in Herefordshire, UK. He keeps Cream Legbar chickens, Silver Sebright bantams and hybrid layers for eggs, Abacot Ranger ducks, Brecon Buff geese and some quail.
Latest posts by Tim Daniels (see all)