Verm-X Internal Parasite Control
I have traditionally wormed my birds using Flubenvet wormer, however recently, I decided to try Verm-X for internal parasite control with some of my birds and have been very pleased with their overall health.
Verm-X is gentle on the digestive system and is currently sold as "Natural Control of Intestinal Hygiene". The makers cannot call it "anthelmintic" or "wormer" since it is not a licensed medicine but classified as a herbal product. It is ideal if, like me you would prefer to try a more organic approach with your birds since it is approved for use with Organic farming methods being a 100% herbal product.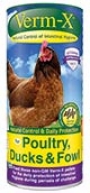 There is no egg withdrawal period and many of the herbs (like garlic, peppermint, fennel and thyme for example) used in Verm-X can actually benefit the health of your birds. Holistic vet Nick Thompson of Verm-X says "Any single herb is thought to contain 4 to 6000 active components. In most plants, we only know the top dozen medicinal molecules. Herbs are able to affect the body and parasites in ways the pharmaceutical companies can only dream of."
Traditionally, I have weighed and mixed up a certain quantity of layers pellets and Flubenvet wormer, using olive oil to help the powder to stick to the pellets. Getting the quantity right and ensuring that the powder stuck to the pellets was always a bit of a challenge. There was often a little too much or too little food mixed up at the end of the treatment period and I was never really -that- comfortable with using a chemical wormer but did want to ensure my birds were wormed thoroughly.
With Verm-X, I found this very straight forward. Verm-X comes in a liquid or pelleted formulation, I used the Verm-X pellets that can be fed mixed in with normal layers pellets. The pellets came in a stay fresh tub and you simply measure out 2.5g per bird, per day using the enclosed scoop for 3 days. The recommendation is to do this every month or as required.
So far, I have treated 3 pens of chickens with Verm-X and 3 with Flubenvet. I must say that the birds treated with Verm-X are looking very fit and healthy and are laying incredibly well. The feather condition of the birds treated with Verm-X does seem to be better and I am monitoring both to see how well they do over the rest of the year. I plan to introduce Verm-X to my waterfowl next as I have been so pleased with the results. Flubenvet isn't actually licensed for use with waterfowl so I am looking forward to trying them with Verm-X.
If you would like more information, there is some information about Verm X on the "keeping chickens: A beginner's guide" website. You can also buy Verm-X here.
This article was originally written in 2009.
Verm-X Update
As a precaution, I use Flubenvet every 6 months or so with Verm-X in between these times. I have found the Verm-X to be very good for the health of my birds but I am still cautious and without performing a trial cannot prove to myself that Verm-X could be used as a complete solution.
Ideally, I would need to perform before and after worm count tests on birds that had been treated with and without Verm-X. which of course does cost quite a lot to do properly. What I believe so far is that it is helping to reduce internal parasites but if I had a confirmed worm problem, I would still use Flubenvet to be on the safe side.
If you have any personal experiences of Verm-X, please leave a comment below.
The following two tabs change content below.
Tim is the founder of the poultrykeeper website and lives in Herefordshire, UK. He keeps Cream Legbar chickens, Silver Sebright bantams and hybrid layers for eggs, Abacot Ranger ducks, Brecon Buff geese and some quail.
Latest posts by Tim Daniels (see all)