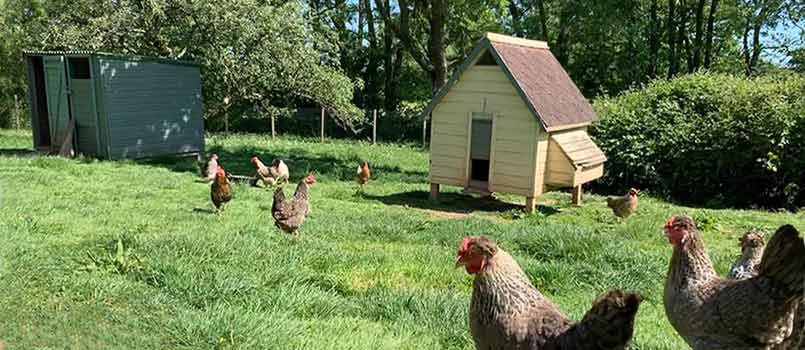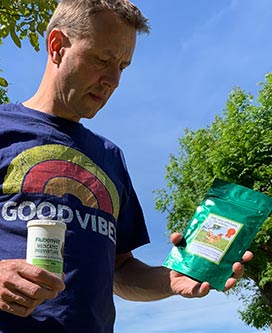 This in-depth guide will tell you everything you need to know about worming chickens. Most of the information also applies to other poultry but there is a separate guide for worming ducks here.
These days, worming chickens is a straightforward process; however, with drug resistance in the news and concerns about the use of drugs in food-producing animals, we should be cautious about routinely using medication.
It helps if we understand how our chickens get worms and when we should (or shouldn't) be worming our chickens to avoid the indiscriminate use of medicines.
With proper husbandry, you can break the worms life cycle. Add in some natural remedies to make the environment less hospitable and some regular faecal egg counts (worm egg counts); you might be able to keep the worm burden low enough that you won't need to resort to using a chemical wormer in the first place. So let's begin!
Worms, Helminths & Endoparasites
Ectoparasites live externally, on the outside of your chickens – an example being lice or mites such as Northern Fowl mite.
Endoparasites, on the other hand, are located on the inside of your bird's body. Endoparasites are called Helminths in the veterinary world, and it's a term used to cover a wide range of internal parasites or 'worms' as we commonly call them.
The critical group of worms that concern us are called Nematodes. These worms inhabit various parts of the digestive tract. I have listed these below — one exception is Tapeworms which are part of a group called Cestodes and can occasionally be a problem for our chickens.
The links below take you to more information about a particular kind of worm. Perhaps you know which type infects your chickens already and would like to jump straight to that page to learn more about them.
The following types of worms can infect poultry:
Worming chickens, when infected, is essential because most of these worms can cause severe damage and eventually death.
The life-cycle of poultry worms
How do chickens get worms?
There are two known ways in which chickens can pick up worms and worm eggs:
Directly = from the ground/floor
Indirectly = via an intermediate host such as an earthworm or snail which have eaten the eggs.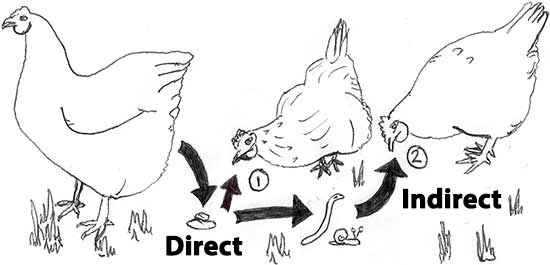 Worm eggs are expelled from an infected bird in droppings by the thousands. These eggs sit on the ground. They can survive for anything up to a year before they are picked up by birds foraging/feeding.
Large roundworms, gizzard worms (that affects geese), hairworms and caecal worms follow a direct life cycle. Hairworms can also have an indirect life cycle.
Worm eggs are expelled from an infected bird by the thousand in droppings, or in the case of gapeworm (found in the respiratory system), coughed up. Worm eggs are not infective at this stage.
Intermediate hosts, (such as earthworms, slugs, snails and centipedes) will eat these eggs and (you've guessed it) your chickens will eat the intermediate hosts together with the worm eggs they have ingested.
An intermediate host is an organism that carries an immature parasite such as an egg or larvae.
The parasite requires this host to develop and usually acts as a "stepping stone" for the parasite to reach its final host.
The larvae hatch inside your chickens, and the cycle repeats. Hairworms, gapeworms and tapeworms follow an indirect life-cycle although (as already mentioned) hairworms can follow a direct life-cycle as well.
So now we know how chickens get internal parasites, let's look at how we know they are carrying internal parasites!
Signs & symptoms of worms
How to recognise a worm problem
You can regularly inspect droppings (for example, when cleaning chicken coops out), although there aren't always worms present unless there is a significant infection.
Many health problems that occur can be related to internal parasites of some sort. It is vital to check for worms regularly and worm when necessary and manage chicken houses, and runs correctly (more on this coming up under Good husbandry – preventing worms).
The most common symptoms are loss of weight / poor weight gain, increased feed consumption, pale yolk colour, diarrhoea and severe cases, anaemia (pale comb and wattles) and eventually mortality. There can be a lot of different symptoms of worms!
In the case of gapeworm, chickens will gasp for breath or 'gape' stretching their neck, as shown in the photo.
The following identification tips may be useful; however, the only definite way to be sure you don't need to be worming chickens is to get a faeces sample (a worm egg count). Don't worry; it's not complicated.
I will cover that shortly.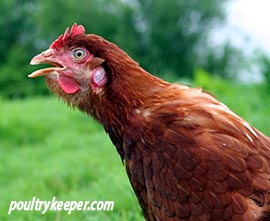 Poultry worm identification
Click on the drop-down below to learn how to identify the different kinds of poultry worms.

Please be aware that there are some photos of droppings and worms found during post-mortem that aren't particularly nice.
The damage caused by worms will be in part of the digestive tract (or respiratory tract in the case of gapeworm) where the parasites live. Typically, infections cause anaemia and haemorrhaging. As shown above for roundworms, in large numbers, they can impact (block) the gut. Worms cause damage and take nutrients from the body. Their waste also releases toxins into the body.
Diagnosing worms in chickens
How do we know if chickens have worms?
Getting a 'worm egg count' (a faecal sample, often just called a worm count) is the way a vet would diagnose a case of worms. It used to be quite a costly exercise.
Thankfully, times are changing, and you don't have to go to your vet to get this done anymore; there are postal worm count kits available for chickens.
Using a worm egg count kit is relatively straightforward. There are gloves, a collection bag for samples and a pre-paid envelope. The worm count takes place in a lab under a microscope, and the result is returned by email advising you of the number of eggs and whether you need to worm your chickens.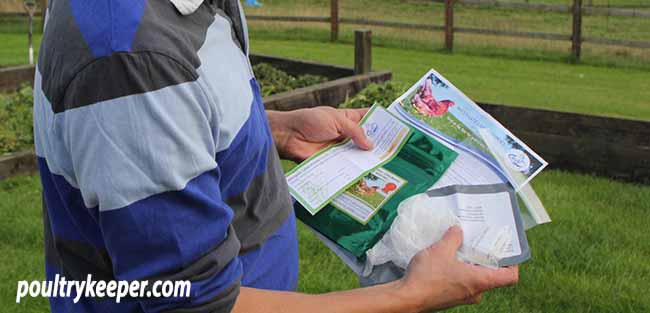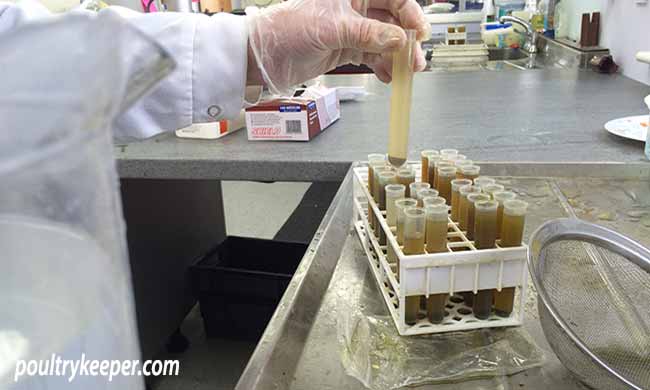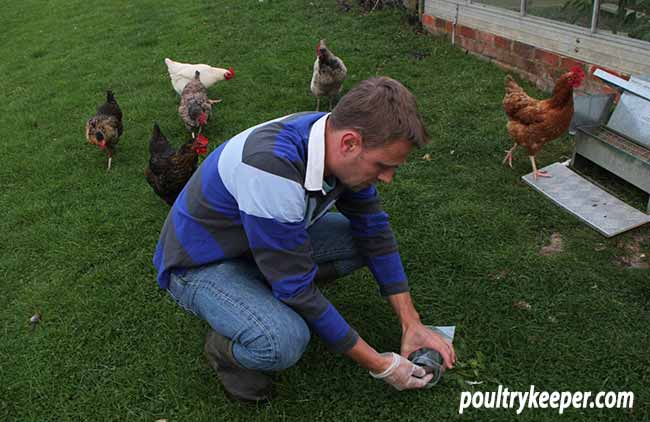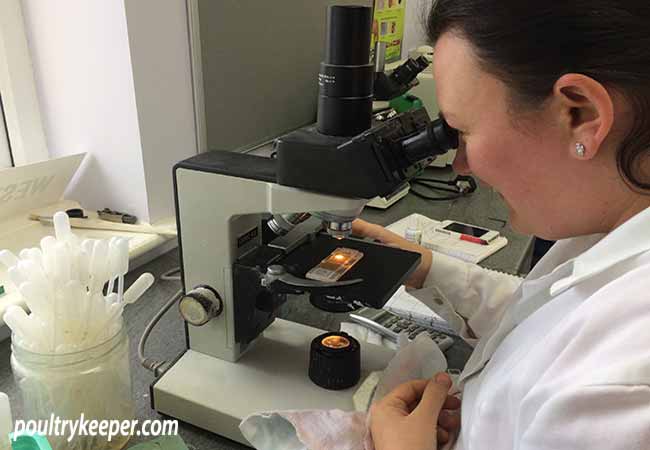 Flubenvet
Flubendazole
Solubenol
Filmabend
Roundworm
Gapeworm
Capillary Worm
Caecal Worm
Safe-Guard Aquasol
Panacur
Roundworm
Gapeworm
Some Capillary Worm
Caecal Worm
Tapeworm
Ivermectin
Drench or injectable
Roundworm
Gapeworm
Capillary Worm
Caecal Worm
Ivermectin
Spot-on / pour-on

Roundworm
Gapeworm
Capillary Worm
Roundworm
Gapeworm
Capillary Worm
Caecal Worm
Roundworm
Gapeworm
Capillary Worm
Caecal Worm
Tapeworm
Australia and Canada
(withdrawn in US)
Roundworm
Capillary Worm
Caecal Worm
During the prepatent phase of infection, poultry can harbour lots of immature worms that are not laying eggs, so no eggs will be present in the droppings (or on a worm count).
Treatment should be repeated within this period (if you know the type of worm) or (if you don't), 3 weeks after the end of the last treatment (2 weeks for geese) .