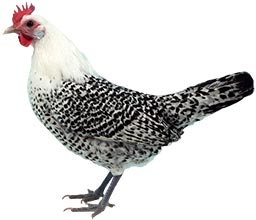 Uses: Exhibition. Eggs: Number / year?? Colour??.
Origin: The Netherlands.
Weight: Cock: ? Kg. Hen: ? Kg.
Bantam: Cock: ? g. Hen: ? g.
Colours: Gold and Silver Pencilled, Citroen, others?.
Useful to Know: Non-Standard Breed. Not standardised by the British Poultry Standards.
Photo: Silver Pencilled Goninger Meeuwe owned by S.A. Mills.
Groninger Meeuwe Chickens originate in the Netherlands. Groninger is a province in the North of the country, on the border with Germany.
– This page is under construction.
Do you know anything about this breed? Can you help us provide a paragraph or two about the Groninger Meeuwe? If so then please email Tim – admin@poultrykeeper.com.
Breeding Hints
Do you have any breeding hints for us?
Photos
Books
The following books provide some further information about Groninger Meeuwe chickens. Links take you to the Amazon or other sellers' pages for the books. Do you know of any others?
Breed Clubs:
Discussion
Please leave a comment below if you can provide further information or have a question about Poland chickens.