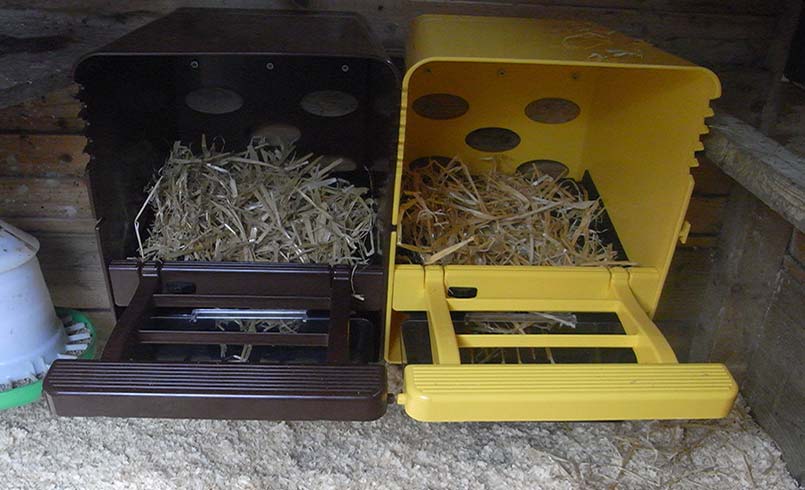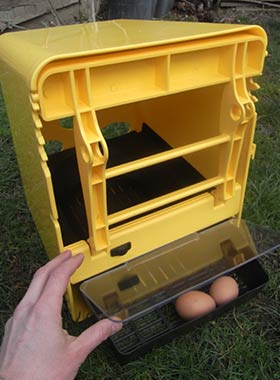 In this Equipment Focus, I test two ChickBox plastic nesting boxes in one of my coops.
I have built several different nesting boxes over the years, and some are more successful than others!
It took me a while to find the right nesting box dimensions for chickens: too small, and they won't use them, or you find broken eggs as they try to squeeze into them, and too big, then more than one hen tries to squeeze into her favourite nest box when there's already a hen in there. Again, broken eggs!
A good size that's easy to install
All of the wooden nest boxes I have made have had red mite take up residence in the cracks, and broken eggs are always difficult to clean up when the egg runs into the cracks.
When I heard about the ChickBox, plastic injection moulded nesting box system that incorporates a roll away egg tray; I was eager to try it out to see how it compared to my own DIY efforts in wood.
The ChickBox is the perfect size for hybrid and most medium to large-sized birds. Nest boxes are self-contained that only require screwing to the hen-house wall or onto a wooden frame.
The plastic nesting boxes cleverly link together side-by-side so that a group may be attached. There is a landing bar at the front of the box to give hens somewhere to land before entering the box.  It folds up to close off the box or access eggs that roll into the egg collection tray.
The roll away egg tray is an excellent idea. I haven't used one of these before, and it took a little encouragement to get the girls to lay in there with their usual nest boxes still available. I closed off their usual nest boxes and followed the ChickBox website's advice, adding straw initially (which my hens are used to laying on), then slowly removing it once they were laying in the new ChickBox. 
They soon got the hang of laying in the roll away tray, and my eggs are kept clean and intact for me to collect later in the evening when I get home from work.
What I liked the most about the ChickBox is how it comes apart so easily for cleaning. There is one slider that removes the front and the roll away tray slides out, allowing easy cleaning of smooth plastic surfaces inside. 
There is certainly no place for red mites to hide with plastic chicken nesting boxes, which is a major advantage over the more common, wooden nest boxes I use.
There are currently two colours of ChickBox available: yellow and brown. Personally, I preferred the yellow at first but after having it installed for a couple of weeks, I have found the brown box doesn't show the dirt as much as the yellow. It takes me about a minute to take both boxes apart and clean them, which is far faster than cleaning out my old wooden nest boxes.
I have been very pleased with the ChickBox; I think it is ideal to stop eggs from breaking and easy to wash down, preventing red mite.
At around £40 or so, I don't feel the ChickBox price is unreasonable, especially considering the money that I seem to spend on red mite treatments every year!
One dislike was that the top of the boxes are flat and not sloped like some others. This means hens can roost there at night, but if you want to stack a couple of rows of boxes, it does allow you to do that.
You could always add a wooden shelf over the top that could easily be scraped clean.
The plastic Chickbox is available in yellow or brown. It uses clever roll-away trays and the interlock to form a bank of nest boxes.
The rail at the front lifts, so the nest box can be closed off at night if you need to discourage hens from sleeping inside them.
The yellow box soon gets dirty; I preferred the brown because it doesn't show the dirt so much. They are straightforward to clean.
The ChickBox is sold on Amazon if you would like to take a closer look!