Poisonous Plants for Chickens
Some plants are poisonous to chickens although fortunately they are quite savvy about what not to eat and it is very rare for a chicken to eat poisonous plants due to their bitter taste.
Prevention is far easier than cure. If in doubt, keep potentially harmful plants away from your birds.
Here is a list of some plants that are poisonous to chickens, it is by no means exhaustive and I haven't been able to verify whether they really are poisonous of course (I'm not going to test them on my chickens!). The list is based on what veterinarians have told me and I have picked out of old poultry books.
Poisonous Plants List
Bloodroot
Bull Nettle
Bracken
Bryony
Carelessweed
Castor Bean
Cocklebur
Curly Dock
Delphinium
Fern,
Foxglove
Ground Ivy
Hemlock

Horse Chestnut
Horse Radish
Hyacinth
Hydrangea
Ivy
Laburnum (seed)
Lantana
Lily of the Valley
Nightshade (Also called Deadly Nightshade)
Rhododendron
St. Johns Wort
Tulip
Water Hemlock (Cicuta maculata L.)
Yew
Blue Green Algae found in water is also fatal so ensure water sources (e.g. ponds or water containers) are clean.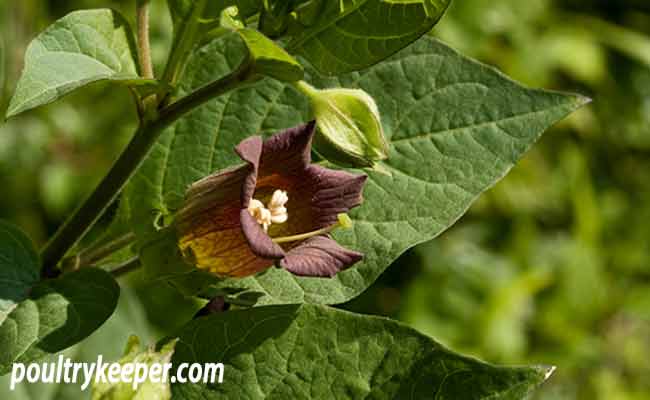 Deadly Nightshade
Plants that we have moved to the next list are the 'possibly not dangerous'. This is because we have had people say they have fed their chickens these plants or seen their chickens eating them and coming to no visible harm.
Possibly not poisonous after-all list
Daffodil
Elderberry
Lamb's Quarters
If you have any plants to add or if your chickens regularly eat any of these 'poisonous' plants, or even if you are worried about a certain plant, not on this list, please leave a comment below and hopefully we will build a clearer picture over time.
Thanks!
The following two tabs change content below.
Tim is the founder of the poultrykeeper website and lives in Herefordshire, UK. He keeps Cream Legbar chickens, Silver Sebright bantams and hybrid layers for eggs, Abacot Ranger ducks, Brecon Buff geese and some quail.
Latest posts by Tim Daniels (see all)