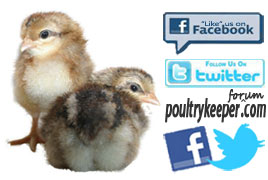 Welcome to our Social Hub. Pull up a chair, (the kettle's on) and join in the conversation!
You can find us on Twitter, Facebook or in our Poultry Forum.
You can email us too but please remember, we are a hobby website (we have day jobs…) and we get one heck of a lot of email and requests for help so please note that we simply cannot answer poultry questions by email. If you have a question, please post it in our forum where it will be answered.
We look forward to meeting you!