This section contains photos from poultry shows and articles about how to show poultry. Scroll down to select a category. If you have a show report to share then please contact us!
Showing Poultry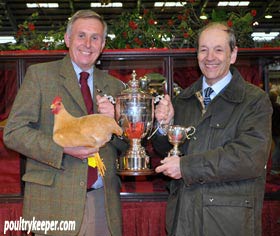 is a rather specialist activity and one that many people haven't heard of, yet it is widespread around the World and has some very dedicated followers. The first ever significant poultry show was held in the UK at London Zoo in 1845 (America's first show was held in Boston public gardens a little later in 1849) and there are now people showing poultry in many countries around the World.
In larger countries, such as America, Canada and Australia, showing poultry becomes difficult at a National level due to the difficulties in transporting birds over long distances. By far the biggest shows are held in Germany and The Netherlands where there are often 30'000 entries. The largest shows in the UK are The Federation of Poultry Clubs show and The National Poultry Show which usually attracts around 6'000 entries.
Before taking birds to a show, there is of course a lot of preparation (they don't come out of the muddy chicken run ready for the show unfortunately!) This preparation involves breeding at the right time so that birds are at their optimum for a show, keeping the birds as clean as possible once they have their adult plumage, then washing and drying them just before the show.
Taking a step back from show preparation, a fancier needs to hatch and raise good quality stock that will be as close to the Breed Standard as possible and this is where the real skills are required. Many years of work are put in to become an outstanding breeder. There are articles in our section on Poultry Breeding that may help you get started.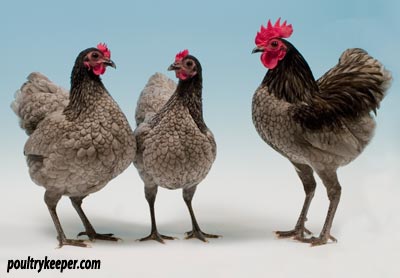 People that show poultry often take judging of their breed very seriously. Naturally, judges can interpret standards differently when there is any ambiguity and the same bird may be placed differently with different judges but if a judge does not understand the breed, there can certainly be some ruffled feathers amongst fanciers!
It's always nice to know that competitors exhibiting the same variety will usually be the first to offer advice to you and before long, become good friends. All ages of people get involved in showing poultry and there are always additional categories for juveniles.
Showing Poultry Sub-Categories
Articles on Showing Poultry


Articles on how to prepare poultry before a show and tips and tricks for exhibiting show chickens, to improving your poultry photos whilst showing your poultry at one of the many shows around the country.
Show Reports, Photos & Results


Show reports, photos and results from around the shows.
Please get in touch if you have any photos or show reports that you can send to us for inclusion here.