Obituary: David Scrivener
I was very sad to learn of the passing of David Scrivener, a very well-respected author and fancier here in the UK.
David or Dave as he liked to be called had a National Diploma in Poultry from Harper Adams Agricultural College in Shropshire, was a 'Panel A' poultry judge for the Poultry Club of Great Britain and has been the Chairman, Honorary Historian and Patron of the Rare Poultry Society.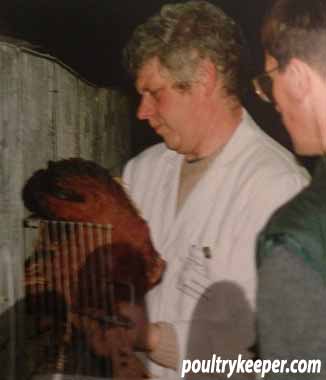 He was a very well-respected fancier who had a passion for rare breeds, particularly the Spanish which he kept.
He had written a number of excellent books which certainly show off his extensive knowledge, including Starting with Bantams, Exhibition Poultry Keeping, Popular Poultry Breeds, Rare Poultry Breeds and Poultry Breeds and Management – An Introductory Guide.
He wrote many articles for poultry magazines, many from his extensive research of the origins of the breeds which to be fair to him was the most extensive research I have seen.
Dave will be missed by many in and out of the hobby.
Did you know Dave Scrivener? Please leave a comment below, especially if you have a story to share.
The following two tabs change content below.
Tim is the founder of the poultrykeeper website and lives in Herefordshire, UK. He keeps Cream Legbar chickens, Silver Sebright bantams and hybrid layers for eggs, Abacot Ranger ducks, Brecon Buff geese and some quail.
Latest posts by Tim Daniels (see all)