Changes In Legislation For Flubenvet
Most poultry keepers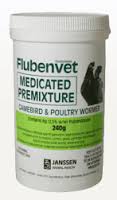 use Flubenvet for worming chickens since this is the only licensed wormer that can be mixed with feed and is effective against all common worms found in poultry, however changes in legislation have been introduced under the Veterinary Medicines Act which means the Flubenvet 2.5% 240g pack most of us like to keep in stock can no longer be sold by vets or merchants unless they have registered as category 8 distributors.
These registered distributors can sell to domestic poultry keepers (that have no commercial benefit) but they cannot sell to commercial keepers unless they are also registered with the Veterinary Medicines Directorate (VMD).
At a glance:
Flubenvet Premixed in layers pellets still can be purchased and is the easiest way to worm your chickens.
Flubenvet 1% 60g pack suitable for approximately 20 chickens is not affected and can still be purchased.
Flubenvet 2.5% 240g tub now only available from category 8 registered suppliers. Many of these are commercial producers that might be unable to sell to you.
Janssen Animal Health, the makers of Flubenvet said in a recent press release "Most retail outlets do not register as category 8 distributors because they do not sell significant quantities of these products and there is also a cost involved in registering as a category 8 distributor that makes it unattractive to most merchants."
The registration fee for merchants is currently £145 but fortunately, this legislation doesn't cover Flubenvet 1% 60 gram pack which contains enough wormer for around 20 chickens and is a popular choice for small-scale back garden poultry keepers.
Janssen Animal Health said "It's never been more important to treat for Gapeworm in particular – a parasite that could be on the increase in free range poultry as well as game birds – and to use a product of known efficacy. Where the same pens are used for rearing every year, gapeworm becomes an increasing risk due to worm eggs accumulating in the soil."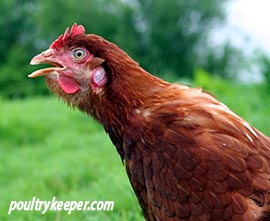 The most common signs of gapeworm are 'snicking' which is associated with difficulty breathing due to the worms living in the windpipe. Other parasitic worms can lead to poor weight gain leading to different sized birds, or even sickly birds and poor feed conversion which can lead to escalating feed costs."
'Gaping' chicken photo Courtesy of Janssen Animal Health.
For further information contact Janssen Animal Health, 50-100 Holmers Farm Way, High Wycombe, Bucks, HP12 4EG Tel 01494 567555 Fax 01494 567556 Email: [email protected]
The following two tabs change content below.
Tim is the founder of the poultrykeeper website and lives in Herefordshire, UK. He keeps Cream Legbar chickens, Silver Sebright bantams and hybrid layers for eggs, Abacot Ranger ducks, Brecon Buff geese and some quail.
Latest posts by Tim Daniels (see all)