Black Rock Chickens are Saved!
Black Rock hybrid chickens are hardy, productive hens that lay up to 280 eggs a year and have been a very popular choice for both smallholders and backyard poultry keepers. Black Rock hens are bred by crossing two very unique strains of Rhode Island Red cockerels with Barred Plymouth Rock hens which have until now come from the Muirfield hatchery in Scotland.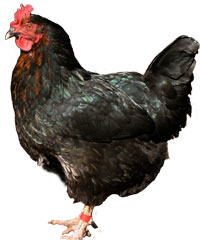 For 40 years, Peter and Margaret Siddons have looked after and improved these strains and have distributed day old chicks all over the UK to distributors who have grown and sold them from this age to point of lay.
Peter and Margaret have now retired and have moved from Muirfield. At one point, it was thought that the Black Rock bloodlines would be lost forever but fortunately Eddie Lovett and his son Calum at Crosslee Poultry Farm (also in Scotland) have taken over the Black Rock bloodlines. Crosslee will continue to supply the Black Rock hybrid. Numbers are limited this year but Eddie expects to be able to meet the full demand for the Black Rock by Spring of next year.
Eddie Lovett said "The first batch of new parent stock we bred are now starting to lay, producing some Black Rock chicks now. We have now started to breed the next parent stock of pure parents from Peters and Margaret's uniquely bred Rhode Island Red and the Barred Plymouth, Great, Great, Grandparent stock. I believe they are around 4.5 years old, they are producing good strong chicks. The new parent stock should start to lay by next December or into January before giving us eggs big enough for the incubation and production of more day old chicks. So by Spring next year we will be producing more Black Rock Chicks helping to meet the demand that we just cannot at this time meet."
There have always been a number of unscrupulous breeders who are breeding hybrids and incorrectly using the Black Rock name, even more so this year since they are in short supply. If you are unsure as to whether the birds you are buying are genuine, you should contact Eddie via www.theblackrockhatchery.co.uk
If you knew Peter and Margaret Siddons of Muirfield and would like to send them good wishes in their new home, you can send cards to 23 Curate Wynd, Kinross, KY13 7DX. You can also call Peter Siddons on 01577 863617 who would love to hear from some of his old customers.
The following two tabs change content below.
Tim is the founder of the poultrykeeper website and lives in Herefordshire, UK. He keeps Cream Legbar chickens, Silver Sebright bantams and hybrid layers for eggs, Abacot Ranger ducks, Brecon Buff geese and some quail.
Latest posts by Tim Daniels (see all)