Can I Buy Black Rock Hatching Eggs?
The Black Rock Hybrid is bred from selected strains of Rhode Island Red and Barred Plymouth Rock chickens from a single hatchery in Scotland owned by Eddie Lovett and his family. Other crosses of Rhode Island Red and Barred Plymouth Rock are of course possible but should be called 'Black Sex-Link' or another name since 'Black Rock' is a protected trade name that cannot legally be used by others. The Black Rock Hatchery has dealers all over the U.K selling genuine Black Rocks but it is always worth checking that these are authorised dealers before buying.

Black Rock Chicks at the Hatchery. Photo Courtesy Eddie Lovett.
The strains that the Black Rock Hatchery uses are specially selected in order to provide the well-known qualities of the Black Rock hen. Other strains may not provide the same qualities.
You cannot buy Black Rock hatching eggs as they are not sold and you would need the original parent stock to produce them (even though there are some people claiming to have them on eBay from time to time!).
Many breeders buy in sexed day old Black Rock chicks and grow them on to Point of lay so it is possible for you to buy day old chicks upwards from many different sources around the UK.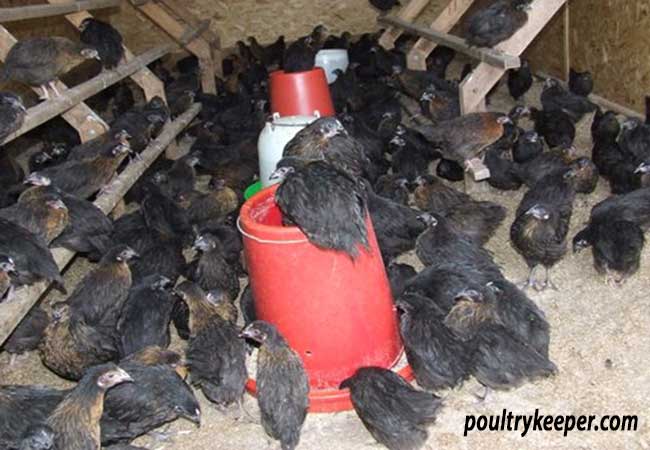 Young Black Rock Pullets are available for sale from many authorised dealers.
Take a look at our Poultry For Sale Page to see if there is a breeder near you stocking Black Rocks, or to see all authorised dealers, go to the Black Rock Hatchery Website.
Cockerels cannot be bought and would be no use as they wouldn't breed true anyway.
The following two tabs change content below.
Tim is the founder of the poultrykeeper website and lives in Herefordshire, UK. He keeps Cream Legbar chickens, Silver Sebright bantams and hybrid layers for eggs, Abacot Ranger ducks, Brecon Buff geese and some quail.
Latest posts by Tim Daniels (see all)