Flat Packed Nest Boxes – from IKEA!
If you are looking for a sturdy but cheap nest box for your chicken house why not try a flat packed nest box? The Faktum Nest box unit from Ikea could be just the thing for your hen-house!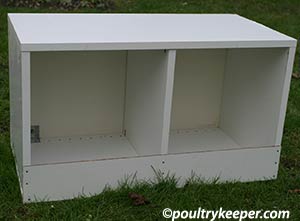 OK so it's not sold as a nest box for chickens, it's actually a Factum kitchen wall unit that's 40cm wide by 70cm deep with a shelf fixed half way in between but it's sturdy, 18mm thick and covered with melamine, providing a moisture resistant finish that is easy to clean.
After weeks of tripping over this unit in my garage that was left over from my kitchen DIY, I suddenly realised it was perfect as a cheap nest box and the right size for even the largest of hens. I added a thin piece of board to the front to create a lip which helps to stop the hen knocking the eggs out of the box and as well as using the standard fixings for the shelf, I tacked 4 panel pins into the four corners to stop the shelf from lifting off the shelf fixings.
Weaknesses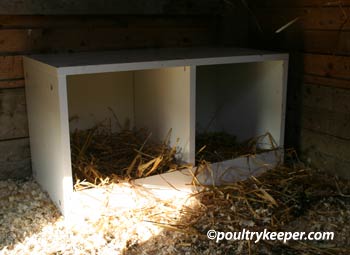 There are a number of holes for different shelf positions and it would be wise to fill these using wood filler or similar to prevent muck or red mite from building up in these areas.
Whilst this kind of wood wipes down easily, eventually if it is left wet, it will absorb the water, swell and spoil so I am only going to use this inside the chicken house in the dry and when I remove it for cleaning, I will ensure it is left out to dry before replacing it in the chicken coop.
Parts list:
Here is a list of parts that you will need to build the Ikea chicken nest box:
Ikea Faktum wall cabinet frame (70H x 40W x 35.5 cm). Article 34179610 Price £10.77 
Ikea Rationell Shelf Pack (40W x 35cm). Article 57871710 Price £2.94
A small piece of fibre board 3mm thick (or similar) as the front lip, cut to suit.
The total price of the nest box comes in at under £14 which shouldn't break the bank.
The following two tabs change content below.
Tim is the founder of the poultrykeeper website and lives in Herefordshire, UK. He keeps Cream Legbar chickens, Silver Sebright bantams and hybrid layers for eggs, Abacot Ranger ducks, Brecon Buff geese and some quail.
Latest posts by Tim Daniels (see all)