I have always said "you get what you pay for" with chicken houses after seeing a number of really cheap chicken coops bought from Ebay that fell apart in the first 12 months of use and were far from fox proof, however somebody that I've got to know well set me a challenge by email a few months ago. They said:
"I have a family to feed and can ONLY justify buying a cheap chicken coop…it's all very well if you can afford better, or you have the DIY skills and can build one, but I can't and I have a limited budget and you don't offer any advice of where to buy cheap chicken coops… Please can you review some of the cheap housing for those of us that are on a limited budget (like me!)"
So the challenge was laid down before me and I started to look for suppliers of cheap chicken coops that I could recommend…
The cheap chicken coops wish list
Firstly, I put together this wish list with the help of my friend who had set the challenge. We agreed on the following:
Big enough for 3 to 4 hens – The number of hens most people want to start off with and enough to give enough eggs for the average family.
Fox Proof – To keep the chickens safe.
Treated timber – Although a coat of good quality wood preserver or paint would still need to be applied to make it last as long as possible.
Reasonable quality – Ideally… since wood is expensive we agreed that you get what you pay for but even so, it had to be of sufficient quality so that it wouldn't fall apart in 12 months!
A good reputation – Customer service is always important and it would be even more important with a budget / imported product if things went wrong.
Around £200 as a maximum cost  – We're doing this on a budget! This was going to limit our choices so we agreed it didn't have to include a run for this.
The biggest challenge for any prospective chicken owner is keeping the hens safe from predators and although this article is about finding cheap chicken coops, I thought it was important to let my friend know that the coops that included a chicken run as part of the package might not be secure enough to stop a fox and because of the small size, she would need to let the hens out for a good part of the day. So, how do you let chickens forage as well as keep them safe? Well, I have come up with two scenarios to answer this question which I have detailed below:
1. Fairly fox free neighbourhood:
The run is going to be pretty small on any cheap coop (if they have a run at all) but if there aren't many foxes in your local area and you don't see them during the daytime and you ensure your birds are locked up at dusk, you could let the birds out into your garden for some free range time during the day when they are around to keep an eye open (when you get home from work for example and the chickens will go back in of their own accord at dusk).
The one problem with doing this is that even larger chicken runs turn to mud very quickly in the time the hens are shut away. I decided the best course of action was to put concrete slabs down first and then wood chips (not bark it can get mouldy and the spores can cause Aspergillosis) that could be used for scratching and could be changed when they became messy. An ideal set up for a small back garden. You can scatter mixed corn into this (but not too much, they will get fat) and this will keep them entertained, foraging, whilst you are away.
2. Fox problems in the neighbourhood:
There is only one thing to do to prevent heartache if you regularly see foxes around: Keep your chickens in a fox proof poultry pen all of the time. But if you don't fancy building a large fox proof run in your garden or using an electric fence (and this article is all about providing a cheap coop so it's unlikely you will want to spend as much again on a run), then consider either moving the coop and run around the garden to provide your hens with fresh pasture, or keep them in.
If you keep them in, you can use wood chips as a substrate for them to scratch through and you must ensure you supply fresh greens to them daily. You can hang greens such as cabbages for them to jump at to get some exercise.
Although this is my least preferred option, I would also suggest that when you're in the garden, you still let them out to get some 'real' foraging.
Anyway, getting back on track, the key to finding the best price I thought was to find a company who had good buying power, a large company or organisation that could ship enough of these products that they could buy in bulk and discount them and this was what I came up with:
Supplier #1 – Chicken Coops Direct
These guys were new to the market 5 years ago and I have watched them grow steadily. Their feedback has been consistently good and they have an easy to use website with many large, clear pictures of each coop. Looking at what they offer and their prices, they ticked all the boxes.
What they say is:
"Over the last 3 years we have continuously improved our chicken coops based on the feedback from over 2750 customers. We have taken great care to describe our coops as accurately and honestly as possible, supplying you with real images, clear product descriptions and accurate coop specifications."
Here are some of their chicken coops:
The Sussex (£199)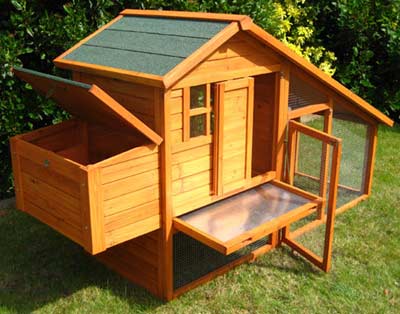 The Sussex is their best-selling coop. It has a covered run built-in which is useful during bad weather and provides shade from the sun.  They have increased the run size and upgraded the galvanised wire to 1.5mm thick. A generously sized nest box and droppings tray are included and there is easy access for cleaning.
The Kent (£119)
The Kent can have a run attached with a door on the side and a lifting lid that allows you to put feeders / drinkers in easily.
Remember you will need to provide some cover over the top of the run for bad or sunny weather.
The Devon (£169)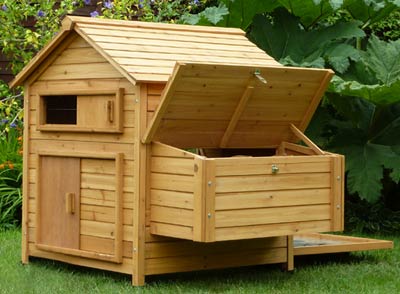 The Devon chicken coop has an optional run or even a double run if you need it.
Priced here without the run, it is certainly a very cheap chicken coop indeed!
This is in my opinion, the best coop we found in this review.
Supplier #2 – Taylors Garden Buildings
Taylors Garden Buildings were established in 1953 and specialise in bespoke garden buildings including garden sheds, summer houses, log cabins and chicken coops.
Taylors Chicken Coop (£191.89)

The Taylors Large Chicken Coop is almost 2 Meters long. This coop is made from treated timber. It has a roof that is covered in felt. They offer free delivery to many areas.
For more photos and information, on their website Click here.
Tip: Type 'Chickens' into their Seach Box to see all of their cheap chicken coops.
Supplier #3 – Petplanet
Petplanet offer just about everything for pets and they have this rather attractive little chicken coop with run available.
The Apex Chicken Coop (£149.99 on offer)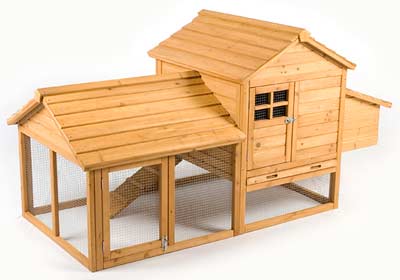 Made from a deep yellow Fir Wood with a small covered run, the Apex Chicken Coop makes a decorative addition to any yard or garden. There is a removable tray for cleaning and the coop can be locked.
Update August 2015:
Sorry PetPlanet are no longer selling this coop so I have removed the link.
Conclusion
It's still true that you get what you pay for so do bear this in mind, although not everyone can justify spending more than £200 on a chicken coop. The coops I have found meet and in many places exceed the requirements of our wish list but the best all-round value for my friend I felt was the Devon Coop at £169 from Chickencoopsdirect. It is also the largest coop out of those we looked at.
The following two tabs change content below.
Tim is the founder of the poultrykeeper website and lives in Herefordshire, UK. He keeps Cream Legbar chickens, Silver Sebright bantams and hybrid layers for eggs, Abacot Ranger ducks, Brecon Buff geese and some quail.
Latest posts by Tim Daniels (see all)