Poultry Antiques from Veronica Mayhew
I had a chance to meet Veronica Mayhew at the National Poultry show in Stoneleigh during 2010 and was able to find out a little more about her business (or rather her passion) for what I would describe as 'poultry antiques'.
Veronica sells antiquarian, old, out of print and new books on poultry – ducks, geese and turkeys, but also includes pheasants, peafowl, guinea fowl, quail and more. Other subjects she covers includes farm livestock, pigeons, cage-birds and domesticated rabbits and rodents but there's far more to Veronica than meets the eye!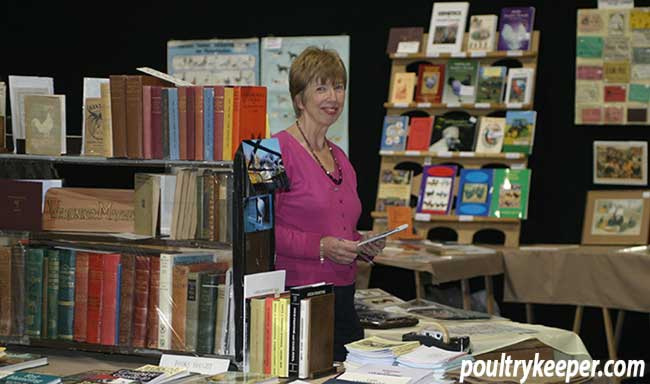 "I started my business in 1972 when I realised my hobby, which I shared with my father, could become a business as well. It has been a venture which I have never regretted. I kept, bred and showed bantams for some 55 years, first Old English Game when I was very young and then Belgian bantams.
I was the Honorary Secretary of the British Belgian Bantam Club from 1971-94 and wrote the book Belgian Bantams which is still in print and which its available from me. Nowadays I keep Voorburg Shield Cropper pigeons, very friendly and great fun. I keep them in a 40 foot aviary with houses either end. As the customers for my books are mainly livestock breeders, I have something in common with them and this makes it more interesting from my point of view. I also like the fact that my poultry books are bought by such diverse individuals- every nationality under the sun, every age-group, background… All bound by this common interest – poultry or other livestock."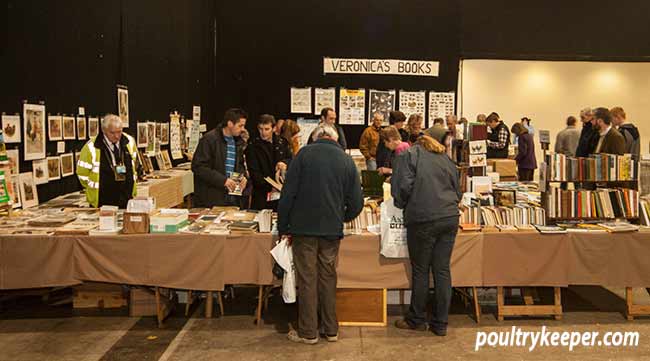 Browsing around Veronica's stall at the National show, I am amazed at the variety of books she stocks, most of which I have never heard of or seen before.
There are specific breed books, old and new on display and a variety of old magazines from the 1900's, carefully packed into collections, not to mention the fantastic old poultry reference books and memorabilia.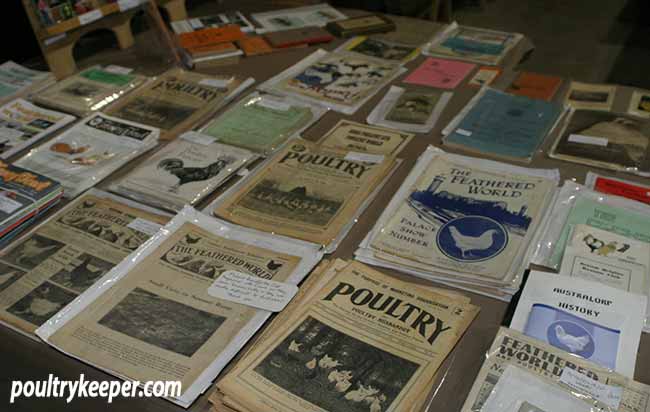 In addition to poultry books, she sells poultry prints, poultry postcards, poultry cigarette cards and all sorts of poultry memorabilia. She also has the occasional original painting and usually some porcelain or glass depicting poultry, especially gamecocks.
"Most of my serious customers remain customers for years and so I get to know them well and can help them to fill in the gaps in their collections by finding the requisite poultry books or poultry memorabilia. This is a very satisfying part of my work. I'm always being asked for certain books such as the classic by Lewis Wright.
The 1st edition of this was published in 1873 and was called The Illustrated Book of Poultry. It ran through several editions and was finally edited by Sidney Lewer after Wright's death. This is the famous Wright's Book of Poultry. It still remains the most desired book by poultry book collectors and is commonly known as The Bible.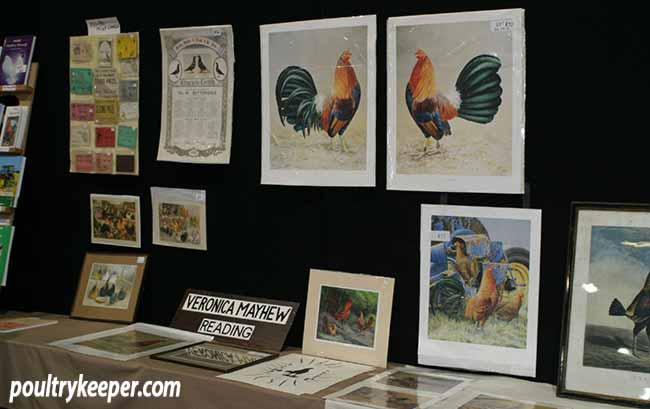 Other sought after books include those illustrated by Harrison Weir, especially the 2 volume work Our Poultry which was both written and illustrated by him. This is my favourite book. it has 36 colour plates but I love all the black white illustrations which are taken from sketches the artist did from the 1850's through to the 1890's. There are masses of them!
Poultry magazine Yearbooks from the 1910 to the mid 1930's period are also keenly sought after nowadays as they offer a brilliant insight into the history of most breeds.The Feathered World Yearbooks are the most popular but Poultry and Poultry World Annuals are also good sources for breed research.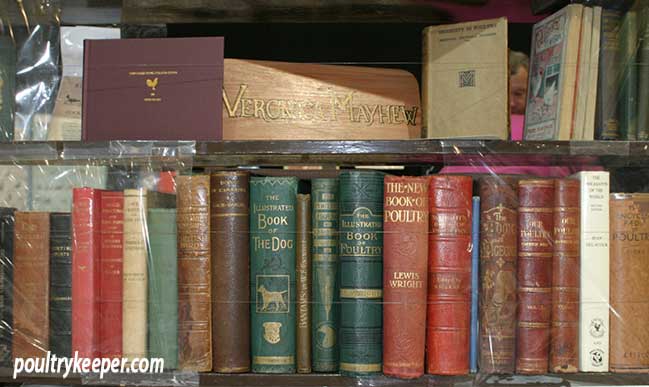 The most interesting old poultry books date from between 1850 and 1935, and many are beautifully illustrated. A few of the Vicrtorian titles are hand-coloured but the majority from that period are printed in colour.
These prints are known as chromolithographs. It is interesting to note that one of the first English books published with colour printed plates was a poultry book. It was written by the Rev.W Wingfield and CW Johnson and publsihed with the simple title The Poultry Book in 1853."
Veronica doesn't have a website but issues catalogues by post and attends a few poultry shows including the National Poultry Show, and the Federation of Poultry Clubs show held at Stafford just before Christmas. She buys from people all over the world, including a few years ago vast collections of poultry books from Australia and America so if you have something you think she might be interested in, you can get in touch with her.
Update 2017
Veronica has retired, however Emmerson Books have taken on the business and continue to support this valuable niche selling old / antiquarian poultry books and magazines.
Telephone: 01295 688019
E-mail: [email protected]
The following two tabs change content below.
Tim is the founder of the poultrykeeper website and lives in Herefordshire, UK. He keeps Cream Legbar chickens, Silver Sebright bantams and hybrid layers for eggs, Abacot Ranger ducks, Brecon Buff geese and some quail.
Latest posts by Tim Daniels (see all)