How to Dispose of your Chickens when they Die
Losing a chicken is always a distressing time, especially if you have been nursing her, trying to get her well. But, should the worst happen, you are then faced with a dilemma. What do you do with her body?
For anyone with a few hens in their back garden, burying any chickens that die would seem as natural as burying the family cat or dog. However, Defra has not caught up with the rise in backgarden chicken keepers and still class all chicken as livestock – lumping together in a blanket law my few pet hens in the back garden with the tens of thousands of hens belonging to a commercial farmer.
They define livestock as: 'Any animal that is kept, fattened or bred by humans and used for the production of food, wool, fur, feathers, hides and skins or any other product obtained from animals or for any other farming purposes.'
And is it illegal to bury livestock.
'The burial ban was introduced in all European Union Member States in 2003.'
It is also worth noting that the burial ban includes burning, or cremating. Confusingly though, it is not illegal to bury your pet:
'The EU Control Regulation allows member States to apply various derogations regarding the disposal of animal by-products (ABPs) and, amongst others the Government has applied the derogation to permit the burial of dead pet animals.'
Which should be good news for the pet chicken keeper, but even though I class my hens as pets, Defra do not. Their definition of a pet is:
'Any animal belonging to species normally nourished and kept but not consumed, by humans for purposes other than farming.'
Wanting to find a definitive answer, I took the bull by the horns and phoned our friends at Defra. However, such is the confusion that Defra also did not know the answer. It took them almost a month to research it and get back to me. They confirmed that poultry, even pet chickens, are not classed as pets but did have this helpful comment:
'Under ABP legislation cremation is permitted. Under legislation administered by the Environment Agency, an Environmental permit is not required for individual ashes placed in a memorial garden.'
Which doesn't quite tie in with their statement on the website that burning is as illegal as burying, but it does seem to recognise the cremation of one animal i.e. a pet. However, this comes straight from the horse's mouth and that is good enough for me! So, in short, you can cremate your dead pet chicken and bury her ashes.
Practicalities of cremations
Our cremations are done at dusk, after the other girls have gone to bed. We have converted an old oil drum and cut a large hole (chicken shaped) for decoration really but also for airflow and lots of small holes (8-10 mm in diameter) in vertical rows down the sides near the bottom to get air flow circulating. We use dry, fast burning wood, usually old pallets or pine which are chopped up and stored in the garage just for this purpose.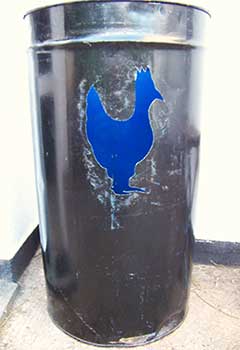 The first batch of wood is burnt using an accelerant such as white spirit to ensure it gets really hot. Then a second batch of wood is burnt and once that has got going, a flat section in the wood is made and the hen put in. A spade is the safest way to lower her gently into the flames. This is where I add flowers…but I wouldn't expect everyone to do the same!
The fire is stoked to keep it very hot and a third load of wood added to keep it burning for another hour or so. Then the embers will do the rest. Overnight it will finish off and by the morning there will be just ash and maybe the odd small bone but nothing nasty. There is also no smell at all. Once cold we sieve the ashes with a garden sieve and then place them in a large pot submerged in the garden and it is all covered with a concrete slab to stop any interested parties trying to dig the ashes up.
Vets can also offer a cremation service from approximately £30 or up to about £90 for an individual cremation. Please ask at your vets for more information about this.
Quotations in this article are taken from Defra (now GOV.UK). For more information visit: https://www.gov.uk/guidance/fallen-stock
The following two tabs change content below.
Jo Barlow
Author
at
poultrykeeper.com
Jo lives in Cornwall and is completely batty about her ex-battery hens. She is a passionate campaigner, helping out with rescues and highlighting their plight in her articles.
Latest posts by Jo Barlow (see all)